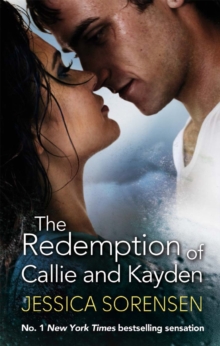 The Redemption of Callie and Kayden
Paperback
Description
THE NUMBER ONE NEW YORK TIMES BESTSELLERThe dark secret Kayden has kept hidden for years is finally out.
Worse, he's facing charges for battery. The only way to clear his name is for Callie to speak up - something he'll never ask her to do.
Instead, he'll do whatever he must to protect her, even if it means letting go of the only girl he's ever loved.Callie knows Kayden is going back to his dark place and desperately wants to save him.
But that means admitting her own painful secrets aloud.
The thought of breaking her silence terrifies her - but not as much as the thought of losing Kayden forever.
Can she convince him they can make a fresh start together - or is she already too late?Lose yourself in the New York Times bestselling sensation that is enchanting readers everywhere - discover an addictive story filled with unforgettable characters, intense passion and heart-stopping romance.
Information
Format: Paperback
Pages: 416 pages
Publisher: Little, Brown Book Group
Publication Date: 11/02/2014
ISBN: 9780751552614
Free Home Delivery
on all orders
Pick up orders
from local bookshops
Reviews
Showing 1 - 5 of 6 reviews.
Previous | Next
Review by emmytuck
16/06/2015
**2.5**<br/><br/>Holy angst-fest batman! <br/><br/>Turns out I did not really like the first one enough to move on to the second. But given the <i><b>huge</i></b> cliffhanger ending, I really didn't have a choice. <br/><br/>If you thought the first one had angst in it - you ain't seen nothin' yet! The first half of the book showed that we had really only scratched the surface of Kayden's issues in the first one, and of course, Callie's weren't over either. It was...overwhelming. I ended up having to skim and I really just wanted it to end. If I wanted such an in-depth study about cutting, I would read a psychology textbook. I don't mean to sound callous, but for what the book was supposed to be - a work of New Adult fiction - this was just too much. One full book about two such heavy topics as Callie and Kayden represent would have been plenty. But two - over 600 pages - of so much pain and suffering was, again, overwhelming. <br/><br/>The last 30 or 40% got better (as the characters themselves got better/healed), which is why I knocked it up half a star. But this book is an example of why I don't like cliffhangers. I feel liked I was tricked into shelling out another $3.99 or whatever when I really didn't want to and now I am forced to leave a poor review.
Review by asgwilli
16/06/2015
3.5 Stars
This review will seem a bit ranty, and I apologize ahead of time. Callie and Kayden's overall story is great, but it should've been just one book. This fell flat to me, The Coincidence was great! It was very powerful with lots of feels going on.. there was a lot of angst, sexual-frustration, sadness, and swooning. BUT the ending was NOT an ending, none of the story was resolved. The Redemption was a drawn-out resolution of The Coincidence. Granted, it was swoony, and there was some angst in the beginning, but there wasn't any conflict added to the story. Like I said, one book!

With all that being said, I like that they had to work out their problems themselves. I notice a lot of books that make the MCs rely upon each other to be better, but in this case they faced their problems head on. I don't care much for Callie's character, only because I can't relate to her. To me she seems whiny, I get that she had a traumatized childhood experience, but to let it control you for so long I don't get. I feel like there wasn't a lot going on in the storyline, hospital, beach, home, the end.

I love how Sorensen handles the duel POVs and I genuinely like her writing style. I totally love the supporting characters and would like to see more from Luke and Seth's POV. There was a hint of them having an effed up life, but you really don't know the details. It would be interesting to see if Jessica does a NA M/M romance for Seth, it would definitely be something different than what's on the market.

Anyway, The Redemption was good but didn't live up to MY expectations. It had a good ending and some good steamy parts!
Review by iloveladyporn
16/06/2015
I was dying for this book!<br/> The first book "The Coincidence of Callie &amp; Kayden" ending with a cliff hand that was painful . The journey these to go through is amazing . Don't get me wrong what they go through is awful but how they discover their strength is truly something else. Some hot &amp; tender sex scenes . Fabulous ending . <br/><br/>Quote:<br/><br/>"It's amazing how one sentence-three single words, eight letters-can have so much power."<br/>
Review by ChannellingCloretta
16/06/2015
Just finished so super excited for the next book of Luke and Violet. I am overly intrigued for the next phase in this story.
Review by BooksToBreathe
16/06/2015
Oh Callie! Oh Kayden! My heart just breaks into a million little pieces for them. They come so far, together and separately, in this book, yet they have so far to go still. <br/><br/>We start off Redemption in a very dark place, and stay there for at least half of the book. Things look so bleak for our favorite lighting stricken couple. Through their love for each other, even though neither will utter the words, we watch them slowly come into themselves, and become stronger. <br/><br/>In the end, there is no cliffhanger, but we are still left with so many questions. What will become of Caleb? What of Kayden's parents? What about Kayden's brother? What about the bombshell (though not that shocking) we learned about Luke's sister? What are Luke and Violet's stories (because you KNOW they have good ones)? And will Set stay sassy, poetic, and strong as he always is? <br/><br/>Only time will tell.....
Also in the Callie and Kayden series | View all