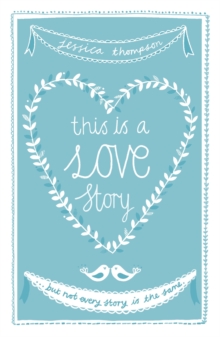 This is a Love Story : But Not Every Story is the Same
Paperback
Description
For fans of 500 Days of Summer, Notting Hill and New Girl, This is a Love Story is a very exciting first novel from Jessica Thompson.
This is a love story. Boy meets girl and girl falls for boy - that much is true.
But when Sienna meets Nick it's not the way it happens in love stories.
It's because of a squirrel on water skis...She sees Nick's dangerous brown eyes and thinks, Don't. Fall. Into. Them. Who will be there to catch Sienna when she falls? She is so fragile. She has so many secrets, and he is not that serious. Funny and sad, this is the story of two people destined never to come together in the great love affair they crave more than anything else.
Information
Format: Paperback
Pages: 448 pages, N/A
Publisher: Hodder & Stoughton General Division
Publication Date: 01/02/2012
ISBN: 9781444734218
Free Home Delivery
on all orders
Pick up orders
from local bookshops
Reviews
Showing 1 - 2 of 2 reviews.
Review by jolzyn
16/06/2015
I heard and read quite a new number of reviews on this book before i decided to buy thie ebook. Have in doubt about the book despite all the rave reviews simply because it is a debut book. Having said that, i m glad that i bought and read this book. Being the first published book, this book have proven the ability and capability of the author.Although the title of the book give out an impression of a simple without complication, it was far from it. It tell the story of Sienna and Nick who fall in love with each other at first sight but decided not to acknowledge the feeling for each other. Despite their feelings, they found themself to be a good friend and their relationship span over 5 years with each other being around to help themselves thru hardship in work and relationships. But they begin to feel tired of the "good" relationship and begin to question about the objective of the relationship and it effecting their other relationship as well.Reading this book, i can see the reason behind the title of the book. It is indeed the purest love story that i ever read. At the end of the book, i feel sorry for both of them for the lost time when they were in denial. Overall, i really enjoyed reading this book very much!
Review by booketta
16/06/2015
I won this book last year from a competition on Book-Love-Bug blog. I have only just now got around to reading it myself, after lending it to my daughter who loved it so much she has asked me if she can keep it. I did ask her if she would like to write a review but with exams it didn't happen.My girl was right about this book. It is indeed a lovely story, poignant, funny and sad, providing a roller coaster of emotions for the reader. Do they? Don't they? Will they? Won't they? Why can't they take the plunge and tell each other how they feel? Best friends with feelings which go a lot further. Of course, if it didn't take so long for them to get together we wouldn't have such a good story. Both my daughter and I loved the strong characters. Sienna is the girl we all want to be beautiful, caring, loving and doing what she can to help those in need. Nick is funny, a prankster, the office joker and is fit. Nick is scared to commit having been cheated on in previous relationships and Sienna, vulnerable, just doesn't get the right guys. Along comes Nick and a friendship built to last.My daughter has already lent the book to friends, a recommendation for her age group, YA readers. It's a story that appeals to all ages.