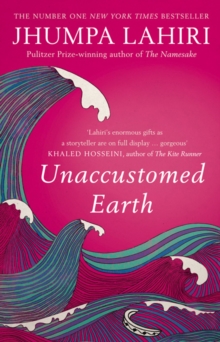 Unaccustomed Earth
Paperback
Description
Beginning in America, and spilling back over memories and generations to India, Unaccustomed Earth explores the heart of family life and the immigrant experience.
Eight luminous stories - longer and richer than any Jhumpa Lahiri has yet written - take us from America to Europe, India and Thailand as they follow new lives forged in the wake of loss.
Information
Format: Paperback
Pages: 352 pages
Publisher: Bloomsbury Publishing PLC
Publication Date: 01/05/2009
ISBN: 9780747596592
Free Home Delivery
on all orders
Pick up orders
from local bookshops
Reviews
Showing 1 - 2 of 2 reviews.
Review by Raven
16/06/2015
This is a collection of short stories: four or five stand-alones, and then three connected stories at the end that together are about novella-length.On the whole, this is very familiar territory. Believe me, I wrote that sentence intending no pun whatsoever; the "unaccustomed earth" of the title is the immigrant's land, both a new world and the New World, and in Lahiri's case, it is invariably Boston and New England. Her immigrants arrive on the eastern seaboard from Calcutta, another coastal city, and they speak Bengali, and they become professors at Harvard and MIT. They are simply, evocatively depicted, the details of their lives lovingly and, in my limited experience of the same narrative, accurately rendered. Lahiri's style is always, always engaging, the simplicity of it turning from mundanity to devastation in a quiet sequence of sentences.And each story is, alone, both lovely and deeply affecting - the title story gives us a young mother being visited by her father after some time apart, and how he plants her a garden; "Only Goodness" is an unflinching look at how easy it is to destroy a family; the linked Hema and Kaushik stories track a son's life after his mother dies young - but it's taken all together that they start to worry me. These familes, their stories, they have two things in common: they are immigrants from India, settling themselves down on that unaccustomed earth, and they are unhappy. Each story has that awful, echoing, hollow sense of loss, with time taken over the lines and caverns of that empty space, care taken to describe the ubiquity of that despair. Here is what worries me. Lahiri's protagonists marry in her stories, some in arranged marriages, some marrying white Americans, and all are loveless and unloved. Some lose their families to death and to distance, and there is no redemption for them, either. There is always a sense that something, somewhere, is irrepairably breaking. I ask not for the saccharine happy ending, but for the notion, however obliquely expressed, that there is hope for the Indian disaspora, that all is not lost at the moment of leaving - and this is not something I can find, here.Perhaps it really is the author's opinion, that the immigrant experience is fundamentally a heartbreak, and in that case this is an honest book - but it is neither happy, nor hopeful, and I hope that it is not true.
Review by RidgewayGirl
16/06/2015
I kept running into Jhumpa Lahiri's books here on LibraryThing. With the release of <i>The Lowlands</i>, there have been discussions about whether she's a better short story writer than a novelist and I would like to have an opinion! So the only reasonable thing to do was to read something by her and <i>Unaccustomed Earth</i> was close at hand. Set primarily in Cambridge, Massachusetts, [Unaccustomed Earth] is a collection of short stories dealing primarily with the experience of being a second generation Indian immigrant, with parents who still prefer traditional foods, are still deeply rooted in Indian culture and who spend their vacations back in India. The children float between the world of their parents and American culture, which adds a layer of complexity to the ordinary struggle to become an adult and to find a purpose and a place in the world. Lahiri writes with subtlety and understanding. I especially liked the series of stories alternating between two characters who are tangentially connected by the friendship between their parents.As to whether Lahiri is a better short story writer or novelist; I'm still unqualified to have an opinion. Her short stories are awfully good, however.