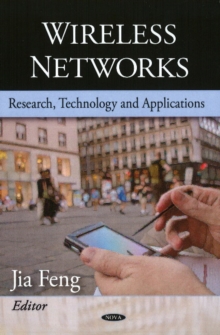 Wireless Networks : Research, Technology & Applications
Hardback
Description
Coverage problem is an important and fundamental issue in sensor networks, which reflects how well a sensor network is monitored or tracked by a sensor.
The current research on coverage problem in sensor networks are reviewed in this book.
Specifically, two types of sensor coverage are investigated: area coverage and target coverage.
In addition, the degree to which the goals of pervasive Internet and network access have been realised with community wireless networks is explored.
Call-level performance modelling and QoS Assessment of W-CDMA networks is also addressed.
In particular, multi-service teletraffic models suitable for the QoS assessment of W-CDMA networks is looked at.
Angle of arrival (AOA) estimation is a significant technology in wireless networks, which can be exploited to locate mobile units, enhance communication efficiency and network capacity, and support location-aided routing.
The many different high-resolution algorithms for AOA estimation is discussed.
The performance of the algorithms is analysed and compared, and evaluated against theoretical lower bounds.
One of the most important network security objectives is authentication, which means to know who send the data and where it came from.
An intelligent authentication and key agreement mechanism for e-Hospital applications is proposed in this book.
In addition, a mathematical model for calculating the coverage fraction in wireless sensor networks (WSNs) is addressed.
Furthermore, a comprehensive survey of recent researches on intentional mobility of WSN's is given.
An overview of the cognitive radio technology and latest research developments in different layers of the protocol stack are discussed.
Important topics such as wide-band spectrum sensing, transceiver architecture and dynamic spectrum allocation are reviewed as well.
An overview of how satellite networking affects TCP (Transmission Control Protocol) is examined.
The main performance enhancing techniques encountered in the literature is also looked at.
A mobile network architecture which addresses the handoff delays and protocol overheads of NEMO are presented.
The feasibility of the architecture is evaluated by comparing its performance with state of the art proposals using both analytical and empirical data.
Finally, an Art Colony Optimisation (ACO) based method is proposed to reduce the computational and communication overhead for wireless networks.
Information
Format: Hardback
Pages: 401 pages, tables, charts & colour illus
Publisher: Nova Science Publishers Inc
Publication Date: 10/08/2009
Category: WAP (wireless) technology
ISBN: 9781606924617
Free Home Delivery
on all orders
Pick up orders
from local bookshops