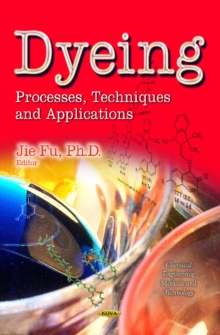 Dyeing : Processes, Techniques & Applications
Paperback / softback
Description
This book focuses on the application of various dyes in the dyeing process and treatment of dyeing wastewater.
Chapter One deals with the chemistry and application of reactive dyes, which are the most widely used dyes for the coloration of cellulosic and allied textile fibres.
Chapters Two and Three introduce photochromic dyes. Chapter Two gives a general description and Chapter Three describes the chemistry of crown ether styryl dyes in detail.
Chapters Four and Five discuss indigo, the oldest known natural blue dye.
Chapter Four systematically describes indigo formation in plants and application in textile coloration.
Chapter Five discusses the mechanisms of a non-conversional process of indigo reduction.
Chapter Six also concerns natural dyes and describes dye extraction from mangrove bark and its application in fabric dyeing.
Chapter Seven summarises various kinds of macromolecular auxiliaries for salt-free dyeing auxiliaries and discusses their physiochemical properties and advantages/disadvantages.
Chapter Eight aims to investigate the spinning technology of the sheath/core nylon/PET composite filament, to survey the elution characteristics of the fabrics, and to analyse their physical properties.
Chapters Nine-Thirteen all discuss the treatment of dyeing wastewater, one of the biggest contributors to water pollution.
They concern the different technologies applied in the treatment of dyeing wastewater, including adsorption, electrochemical techniques, coagulation/flocculation, biological treatments, and membrane bioreactors.
From these contents, readers can get a good understanding on the current advances and developing trends of treatment technologies for dyeing wastewater.
Information
Format: Paperback / softback
Pages: 232 pages
Publisher: Nova Science Publishers Inc
Publication Date: 16/10/2013
Category: Textile & fibre technology
ISBN: 9781628088472
Free Home Delivery
on all orders
Pick up orders
from local bookshops