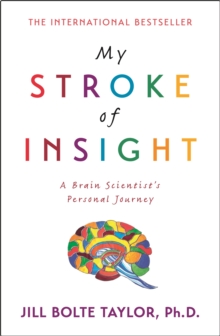 My Stroke of Insight
Paperback
Description
The astonishing international bestseller that chronicles how a brain scientist's own stroke led to enlightenment.On the morning of the 10th December 1996, Jill Bolte Taylor, a thirty-seven-year-old Harvard-trained brain scientist experienced a massive stroke when a blood vessel exploded in the left side of her brain. A neuroanatomist by profession, she observed her own mind completely deteriorate to the point that she lost the ability to walk, talk, read, write, or recall any of her life, all within the space of four hours.
As the damaged left side of her brain - the rational, logical, detail and time-oriented side - swung in an out of function, Taylor alternated between two distinct and opposite realities: the euphoric Nirvana of the intuitive and emotional right brain, in which she felt a sense of complete well-being and peace; and the logical left brain, that realized Jill was having a stroke and enabled her to seek help before she was lost completely.
In My Stroke of Insight: A Brain Scientist's Personal Journey, Taylor brings to light a new perspective on the brain and its capacity for recovery that she gained through the intimate experience of awakening her own injured mind.
The journey to recovery took eight years for Jill to feel completely healed.
Using her knowledge of how the brain works, her respect for the cells composing her human form, and an amazing mother, Taylor completely repaired her mind and recalibrated her understanding of the world according to the insight gained from her right brain that December morning.
Information
Format: Paperback
Pages: 192 pages, Integrated b&w line drawings
Publisher: Hodder & Stoughton General Division
Publication Date: 01/02/2009
Category: Memoirs
ISBN: 9780340980507
Free Home Delivery
on all orders
Pick up orders
from local bookshops
Reviews
Showing 1 - 4 of 4 reviews.
Review by EowynA
16/06/2015
Fascinating look at how the brain works, from the inside. The author is a neuroanatomist, so she understands clearly how brains are structured, and what areas do what functions. She also experienced a stroke in the left hemisphere of her brain, and lived to tell about it. It took her 8 - 10 years to recover, but this is the story of that stroke, and what it did to her brain and to her mind, simultaneously. Fascinating and unique!
Review by nmarun
16/06/2015
My thoughts on this book:1. The details the author gives about brain and how it works was quite interesting for someone like me who is a Software Developer and don't get to see/know/learn things like this in my daily schedule.2. I think this book should be dedicated to mothers like GG - seriously. The care, love and thoughtfulness bestowed on any person could come only from a Mother. (now read the title of this review)3. The author mentions about the plasticity of the brain. I find Dr. Jill's story to describe how 'plastic' our brain is. In this regard, I found the book The Brain That Changes Itself: Stories of Personal Triumph from the Frontiers of Brain Science (James H. Silberman Books) to be very fascinating and stimulating.
Review by Jen448
16/06/2015
This was an easy read, but I was not impressed by it at all. I have a BA in neuroscience and I was expecting more science and less hippie propaganda. I am interested in neurogenesis and was hoping to hear more about how Taylor's brain changed as she recovered her left hemisphere facilities, but there was none of that at all. I also did not really approve of the way the author demonized the left hemisphere, depicting it as the source of all our selfish and negative emotions. The only people I would recommend this book to are those who have friends and loved ones who have suffered similar strokes as this book definitely offers some solid advice as to how to relate to stroke victims and help them recover.
Review by labdaddy4
16/06/2015
For me, not enough "hard science" - entirely too much time spent on the metaphysical - too "new age" for me. I learned from this but would not use this as a guide or resource.