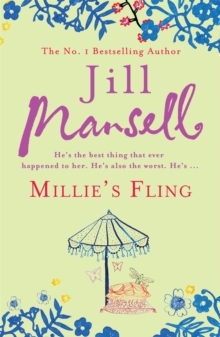 Millie's Fling : A feel-good, laugh out loud romantic novel
Paperback / softback
Description
MILLLIE'S FLING by Sunday Times bestselling author Jill Mansell is a must-read for fans of Cathy Kelly and Lucy Diamond.
Jill's novels are loved by reviewers: 'A lovely uplifting read' Good HousekeepingHe's the best thing that ever happened to her.
He's also the worst. He's Millie's fling... When Millie Brady saves Orla Hart's life she doesn't realise how drastically it will change her own - not least because the boyfriend who was asking her to move in with him at the time stormed off in a huff.
Actually, Millie's relieved. She's happy to enjoy a man-free summer in Cornwall. But Orla has other ideas. She's determined that Millie should meet the man of her dreams.
Trouble is, Millie's taste in men doesn't tally with Orla's.
The one who really interests her is Hugh Emerson, and he's the man with whom Orla's adamant she mustn't get involved... What readers are saying about Millie's Fling: 'We are introduced to so many fabulous and believable characters throughout the story, who you really end up caring about.
There are also some real laugh-out-loud moments. Beautiful, slushy and romantic!' Goodreads reviewer, 5 stars'I have to say that this is [Jill Mansell's] best yet - once I started reading it I couldn't put it down' Amazon reviewer, 5 stars'A wonderful book with such humour that I stopped reading only to laugh my head off.
It's one of the best books I have ever owned' Amazon reviewer, 5 stars
Information
Format: Paperback / softback
Pages: 576 pages
Publisher: Headline Publishing Group
Publication Date: 04/12/2006
ISBN: 9780755332564