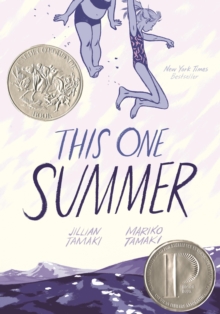 This One Summer
Paperback
Description
Every summer, Rose goes with her mum and dad to a lake house in Awago Beach.
It's their getaway, their refuge. Rosie's friend Windy is always there, too, like the little sister she never had.
But this summer is different. Rose's mum and dad won't stop fighting, and when Rose and Windy seek a distraction from the drama, they find themselves with a whole new set of problems.
It's a summer of secrets and sorrow and growing up, and it's a good thing Rose and Windy have each other.
Information
Format: Paperback
Pages: 320 pages, black & white illustrations throughout
Publisher: Roaring Brook Press
Publication Date: 28/04/2014
Category: Comics and Graphic Novels
ISBN: 9781596437746
Free Home Delivery
on all orders
Pick up orders
from local bookshops
Reviews
Showing 1 - 5 of 21 reviews.
Previous | Next
Review by krau0098
16/06/2015
I got a copy of this book to review through the Amazon Vine program. It was a decent story, but not really the kind of thing I would normally read. If you are into realistic teen fiction, this might be a good graphic novel for you.Every summer Rose goes with her parents to Awago Beach, every summer she meets up with her Awago Beach friend, Wendy, who is like the sister she never had. Wendy is a year younger than Rose and they have hung out all summer long for as long as they can remember. This summer is different though, Rose's parents won't stop fighting and Rose is started to get interested in the older boys who hang around town too...even though Wendy is still oblivious to boys in general.This book is kind of like a teen soap opera. It's a realistic fiction novel that does an excellent job of portraying the summer of two pre-teen girls. There is a lot of family drama as we (and Rose) try to figure out what her parents are fighting about. That is only one of the mysteries that unravels as the story progresses.Rose is starting to get more interested in how she looks to others and in what boys think of her. Wendy is oblivious to it all and could care less. You can tell that this summer the girls' friendship is more strained than normal. Rose develops a crush on a teenage boy who runs the convenience/video store. These leads to Wendy and Rose hanging around the video store where they rent horror movies they aren't old enough to watch in an effort to impress the boys there.So the summer ends up being spent with Rose dodging her parents and Rose and Wendy scaring themselves silly with horror films. More drama unfolds when they overhear the boy at the video talking about his girlfriend who he accidentally got pregnant.I would recommend this for older young adults, even though our protagonist is a pre-teen. The teenagers that Wendy and Rose eavesdrop on talk a lot about sexual stuff in rather blunt and somewhat offensive slang. There is a boatload of swearing in these parts of the book as well. I mean it is pretty realistic, because you totally hear teens walking around talking like that. Just a warning to those who might be offended by that.In keeping with the realistic theme of the book, there really isn't an ending here...nothing is resolved. It's pretty much left like real life. Rose leaves Awaga Beach and with her leaving she leaves both Wendy and all the other teenage drama behind.The illustration is all done in tones of blue. It is very well drawn and it is easy to see the subtleties in the characters facial expressions and emotions. It is drawn in a fairly realistic style and not all that cartoony or stylized. The illustration adds a ton to the story.Overall I enjoyed reading this book, although it is not something I would normally pick up. This is kind of one of those "a day/summer in the life of a teen girl" kind of books. Lots of day to day boredom interspersed with drama. There's a lot in here about friendship, family dynamics, and growing up. If you are into that kind of thing I would definitely recommend this. It was a nice break from all the fantasy I usually read and did a really excellent job of capturing an accurate snapshot of a pre-teen girls' slightly troubled summer.
Review by zzshupinga
16/06/2015
Every summer for as long as she can remember, Rose, her mom, and her dad head to a lake house at Awago Beach. It's a refuge, a getaway, a chance to relax and recover from the stresses of the past year. And every summer Rose's friend Windy and her family are there as well. Windy and Rose are like sisters and best friends. This year though...things have changed. Rose's mom and dad just won't stop fighting. Rose is growing up and beginning to notice the local boys and is interested in horror movies. And a couple of the local teens have an encounter that will change things for everyone. This is going to be a summer like no other. This is one of those stories that is hard for me to write a review. Because I want to write so much about it, I want to tell you what happens, but I don't want to spoil the story. And it's also difficult, because the story is so realistic, so vivid, that I felt like I was reading Rose's diary. It feels almost like an invasion of privacy, because the story is so well told that in just a few short sentences we can understand the swirl of emotions and drama and chaos that Rose is experiencing. Because we remember what it was like to go through that transition. We are no longer children, but we are not yet quite adults either. And it doesn't matter if you're male or female, we can all remember that time of struggle. Wondering what it's like to be an adult, trying to be an adult, trying to figure out what love is and not make a fool out of ourselves. Mariko and Jillian have accurately captured the feelings of this age and make the reader feel like they're actually participants in what's going on, not just mere observers to the world.I think what I like best about the story though, is that the dialogue feels real. It's like we've stepped into a local school and we're hearing teens from today talk about what's going on in their lives. But we can also feel like we're stepping back into time to the 90's and the dialogue would still feel the same. So many authors struggle with trying to be real teens, it's like they've forgotten what they were like and imagine that everyone talks in complete sentences. But not in this story. Here we have the broken sentences, half words, not real words, and everything in between.The artwork for this story is absolutely gorgeous and breathtaking. The simple color palette of blue and white capture the emotion and intensity of the what's going on and have the characters leaping off the page into the real world. The blue and white also echo the idea of the lake and waves crashing against the shore nicely. It's that idea of swirling chaos and beauty that we see and feel when standing on the shore. The color palette also reflects the idea that we're reading Rose's diary or hearing her tell the story. Even more than that, it feels like we're watching an old home movie, where the film has faded slightly, but we can still feel and be a part of the story.The design of the characters though is my favorite aspect. There are no "perfect" bodies or super models. We see real people, real teens. Skinny, chubby, fat, slim, muscular, old, and everything in between. In other words real people. It isn't something shows up often in young adult books, and I am so glad to see it here.This is one of those books that I could give and recommend to so many different groups: to teen girls just at that age of childhood and adulthood with so much to look forward to and to fear; to women that want to remember what it felt like at that age--the first crush, the separation of childhood friends, of growing up; and to guys that just want to understand the depth and emotion that this age holds. I give this book 5 out of 5 stars and look forward to seeing what Mariko and Jillian do next.ARC provided by Gina at First Second
Review by jnwelch
16/06/2015
The graphic novel This One Summer is like a visually fleshed out novella, featuring contrasting themes of unwanted teen pregnancy and a mother's unfulfilled desire to have another child. We watch it unfold through the eyes of two pre-teen friends on their annual summer vacation in cottages near Awago Beach. Rose is on the cusp of teenage-ness, and both she and Windy are wondering about things like sex, boobs, pregnancy and so on. At the same time, they still like to play at the beach and while away the summer hours. The local video rental is staffed by two teen boys willing to rent them "R" horror movies like Nightmare on Elm Street, which become their shared secret night-time entertainment.They are fascinated by the local teens and study them, including an apparently pregnant and angry young girl and her skeptical, responsibility-dodging boyfriend. At the same time, Rose's mother is mourning the miscarriage loss of a desired second child, as her marriage to Rose's father frays.An unusual story for graphic treatment, beautifully carried out by the Tamaki cousins. They manage to convey that long lazy feeling of summer along with these potentially explosive personal dilemmas, all viewed through the eyes of two young friends edging toward adulthood. The graphic treatment allows entry into the girls' world in a mesmerizing and convincing way.
Review by Laura400
23/09/2015
Wonderfully drawn. The story is interesting in concept, but does meander in parts and become a little vague sometimes. But thanks to the drawings, the atmosphere and complex characters are very well-defined and presented. Fantastic illustrations, though -- really first rate and highly impressive.
Review by bluepigeon
27/08/2015
Everyone has said it. I concur, the art is superb.What I don't understand is how people thought nothing happened in the book... Hmmm, I suppose things didn't blow up, and there were no car chases, and true there were no explicit sex scenes. So nothing like that happened, I agree. But a lot of things that may seem insignificant to adults or to anyone other than the few children, teenagers, adults involved in the story happened. A lot happened in their lives. Perhaps people have forgotten how important it was to find out stuff about the older teenagers, and try to make sense of it all, or how important it was that parents get along when they were younger. Every bit of the book is genuinely brilliant. The languid summer vacation disturbed with a friendship that is changing, a small-scale domestic drama at home, back to a boring visit to a small-town museum, a chance encounter, a tragedy averted, teenage drama unraveling deliciously in front of the two girls who are disgusted and intrigued by the adult world, and many nights spent in the horror of bad scary films... Almost everything about the story is understated, which, I suspect, is why people thought nothing happened in the novel. There are very few moments of extreme dramatics, and most of the time is spent not saying things, trying to get through things, not understanding things, which is pretty close to my coming-of-age experience, as I think must be to many people's. The friendship between the girls, one being a whole 1.5 years younger than the other, is perfectly executed. The difference in home culture is also well done, creating some interesting and funny moments.Perhaps the only thing that could have made it better for me was if Rose's mother was given a better opportunity to explain herself. I know this is not always the case in real life, but I felt like a tiny bit more would have done it better justice. Recommended for those who do not need explosions and severe dramatics to find a story interesting!
Also by Jillian Tamaki