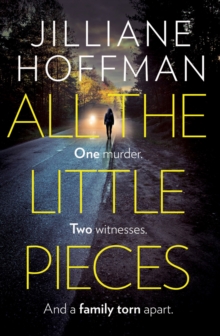 All the Little Pieces
Paperback / softback
Description
She could have stopped an awful crime. She could have saved a life. She tried to forget about it. But now, the truth is out. The terrifying new psychological thriller from the bestselling author of Retribution and Pretty Little Things. GIRLS ARE DISAPPEARING INPALM BEACH COUNTY Prostitutes, strippers - girls who don't have a loving home tomiss them, who disappear through the cracks. DETECTIVE BRYAN NILL CAN'T PROVEIT'S A SERIAL KILLER He just knows it in his gut.
But without a witness,he's got nothing. FAITH IS FEELING GUILTY She's tried to put that night out of her mind - the girl's facepressed to the window, begging for help.
She's tried tellingherself she was right to keep the door locked. BUT SHE WASN'T THE ONLY ONE IN THE CAR When Faith's four-year-old daughter identifies the girl on thenews, Detective Nill gets his witness. And Faith's lifestarts to unravel.
Information
Format: Paperback / softback
Pages: 512 pages
Publisher: HarperCollins Publishers
Publication Date: 25/07/2016
Category: Crime & mystery
ISBN: 9780007311729
Other Formats
EPUB from £4.99
eAudiobook MP3 from £11.59