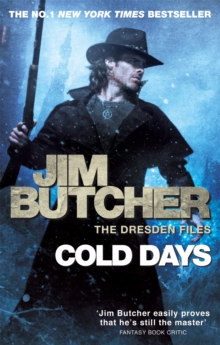 Cold Days : The Dresden Files, Book Fourteen
Paperback
Description
You can't keep a good wizard down - even when he wants to stay that way.For years, Harry Dresden has been Chicago's only professional wizard, but a bargain made in desperation with the Queen of Air and Darkness has forced him into a new job: professional killer.Mab, the mother of wicked faeries, has restored the mostly-dead wizard to health, and dispatches him upon his first mission - to bring death to an immortal. Even as he grapples with the impossible task, Dresden learns of a looming danger to Demonreach, the living island hidden upon Lake Michigan, a place whose true purpose and dark potential have the potential to destroy billions and to land Dresden in the deepest trouble he has ever known - even deeper than being dead. How messed up is that?Beset by his new enemies and hounded by the old, Dresden has only twenty four hours to reconnect with his old allies, prevent a cataclysm and do the impossible - all while the power he bargained to get - but never meant to keep - lays siege to his very soul.Magic. It can get a guy killed.
Information
Format: Paperback
Pages: 656 pages
Publisher: Little, Brown Book Group
Publication Date: 03/09/2013
Category: Fantasy
ISBN: 9780356500959
Free Home Delivery
on all orders
Pick up orders
from local bookshops
Reviews
Showing 1 - 1 of 1 reviews.
Review by AHS-Wolfy
16/06/2015
After being somewhat disappointed with the last instalment of the Dresden Files series I picked this one up with a little trepidation. Had Jim Butcher's wizarding express run out of steam or had this one brought it back on track?[b]The rest of this review will contain at least minor spoilers for the preceding books of the series.[/b]This one picks up with Harry's recuperation at the hands of his new employer, Mab the Winter Queen, and having to come to terms with the pecking order of her court. It's not long before his strength is tested and he quickly makes some new enemies. He is also given his first task as the Winter Knight – to kill an immortal. As if that wasn't going to be hard enough, Harry also learns of a threat to his island, Demonreach. A danger that will not just destroy the island but take half the Midwest along with it.Even though the time span for the action contained in this book is just over 24 hours, there's a lot going on and with plenty of information to take on board. Not only do we get to learn more of the fae through Harry's new role but we also get introduced properly to Demonreach as well. What it is and what Harry's relationship is to it also. There is more to the story but that would be giving too much away. Most of the Scooby gang make an appearance and it's good to reconnect with the likes of Molly, Thomas, Bob, Karrin and the rest. The action and pacing of the story is all done at breakneck speed with barely a moment for the reader to catch their breath.It's great to be back on the Dresden express and I can't wait for the next part of the journey to arrive.
Also in the Dresden Files series | View all