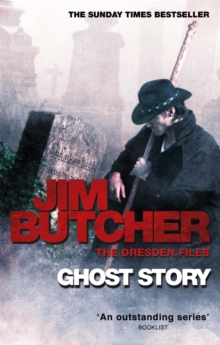 Ghost Story : The Dresden Files, Book Thirteen
Paperback
Description
Meet Harry Dresden, Chicago's first (and only) Wizard PI.
Turns out the 'everyday' world is full of strange and magical things - and most of them don't play well with humans.
That's where Harry comes in. But he's forgotten his own golden rule: magic - it can get a guy killed.
Which didn't help when he clashed with unknown assailants with his murder in mind. And though Harry's continued existence is now in some doubt, this doesn't mean he can rest in peace.
Trapped in a realm that's not quite here, yet not quite anywhere else, Harry learns that three of his loved ones are in danger.
Only by discovering his assailant's identity can he save his friends, bring criminal elements to justice, and move on himself.
It would just be easier if he knew who was at risk. And had a (working) crystal ball. And access to magic. Instead, he is unable to interact with the physical world - invisible to all but a select magical few.
He's also not the only silent presence roaming Chicago's alleys.
Hell, he put some there himself. Now, they're looking for payback.
Information
Format: Paperback
Pages: 624 pages
Publisher: Little, Brown Book Group
Publication Date: 31/07/2012
Category: Fantasy
ISBN: 9781841497167
Free Home Delivery
on all orders
Pick up orders
from local bookshops
Reviews
Showing 1 - 1 of 1 reviews.
Review by AHS-Wolfy
16/06/2015
So what's it like being dead? This is what Harry Dresden is about to find out but before moving on he's given the option of returning to find his killer. If he doesn't, he's informed, 3 of his friends will come to great harm. So for Harry that isn't really a choice and so his spirit is returned to Chicago to see what he can do. Unable to physically interact with the world, Harry will have to come up with something different this time around. No blundering into situations and then just blasting away until all the bad guys are dead. Time has moved on since his departure and now that Chicago had lost a protector it seems some big nasty's have moved in. Molly, Harry's former apprentice, has tried to stem the tide but at what cost to her? Murphy, the werewolves and the Para-net have joined forces to also hinder the evil tide but things are so bad that they're even forced to ask Marcone for help on occasions. Harry turns to the one person he knows that will be able to at least offer interaction with his current incorporeal self but it seems that Mortimer Lindquist, the ectomancer, has problems of his own. Can Harry work out a deal to get Mort to help him out or will he have to go it alone and try and find his killer by himself?This didn't feel quite up to par with a lot of the previous books in this series. Because he can't generally interact with his friends this one seems less fun this go around and gets quite bleak at times and perhaps because of this the pacing seemed a little off as well. It was also fairly predictable and the ending was certainly no shock. But having said all that, it was still a Harry Dresden novel and not everything is as bad as I've seemed to describe up until now. It gets quite touching in parts and there are signs that Harry may develop more as the series continues because of his actions in this instalment. Is Harry actually growing up? I'll certainly be carrying on with the series when I get around to it.
Also in the Dresden Files series | View all