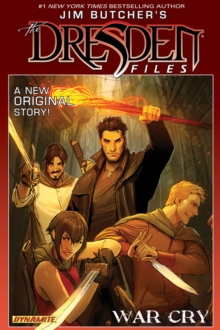 Jim Butcher's Dresden Files: War Cry Signed Limited Edition
Hardback
Description
A war is raging between the vampire forces of the Red Court and the WhiteCouncil - a war that the wizards are losing.
So desperate are the Council thatthey've dragooned the experienced and the outcast to reinforce their thinningranks of Wardens.
One of these draftees is one Harry Dresden, Chicago's onlywizard-for-hire and a guy who's long been looked upon with suspicion by thesupernatural authorities.
Now, he's one of them, and his first big mission as aWarden is a doozy: take a small team of greenhorns to a frigid town in themiddle of nowhere to rescue a handful of mortals who've been targeted by the RedCourt.
The question is, why exactly are these particular mortals so crucial tothe outcome of the war?
The answer will come only if Harry can keep them, andhis team, alive for one very long night.
This graphic novel collects the critically acclaimed, five-issue series inone volume, and features a bonus section with Jim Butcher's original storyoutline, sketchbook artwork from Carlos Gomez, cover gallery with roughs fromStjepan Sejic, and more!Creator Commentary from JimButcher:"The greatest frustration about writing the Dresden Files is all thestories I come up with that are too small or too straightforward to write into anovel.
One of the great pleasures I've had as a writer is getting theopportunity to tell some of those stories in a short-story format, and ingraphic novels like this one!
War Cry is one of the stories I alwayswanted to tell but never got the chance to in the context of the novels, and I'mextremely pleased with how well it's coming out."
Information
Format: Hardback
Pages: 136 pages
Publisher: Dynamic Forces Inc
Publication Date: 09/12/2014
Category: Crime & mystery
ISBN: 9781606905753
Free Home Delivery
on all orders
Pick up orders
from local bookshops