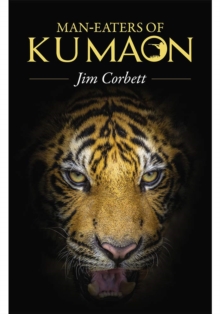 Man-eaters of Kumaon
Paperback
Description
Jim Corbett was every inch a hero, something like a "sahib" Davy Crockett: expert in the ways of the jungle, fearless in the pursuit of man-eating big cats, and above all a crack shot.
Brought up on a hill-station in north-west India, he killed his first leopard before he was nine and went on to achieve a legendary reputation as a hunter.
Corbett was also an author of great renown. His books on the man-eating tigers he once tracked are not only established classics, but have by themselves created almost a separate literary genre.
Man Eaters of Kumaon is the best known of Corbett's books, one which offers ten fascinating and spine-tingling tales of pursuing and shooting tigers in the Indian Himalayas during the early years of this century.
The stories also offer first-hand information about the exotic flora, fauna, and village life in this obscure and treacherous region of India, making it as interesting a travelogue as it is a compelling look at a bygone era of big-game hunting.
Information
Format: Paperback
Pages: 228 pages, maps
Publisher: OUP India
Publication Date: 10/08/1989
Category: Biography: sport
ISBN: 9780195622553
Other Formats
Hardback from £11.89
Paperback from £6.45
Paperback / softback from £15.85
Free Home Delivery
on all orders
Pick up orders
from local bookshops
Reviews
Showing 1 - 5 of 6 reviews.
Previous | Next
Review by PoohGrandpa
16/06/2015
Here's another book I've read over and over again. First acquired in paperback when I was 12, I read it until it started to disintegrate (and I'm careful with books). About 30 years ago I was able to procure, used, the above edition, and I have no idea how many more times I've read it. Like Velocity, but in a totally different genre, Corbett draws you in, painting word-pictures of the art of hunting man-eating tigers, the Indian hill country, and the wonderful people who live there. Still today, over a half century later, the book still captivates me.
Review by santhony
16/06/2015
This book had the potential to be so much more than it ended up being. The author, a devoted naturalist and sportsman, certainly experienced a life deserving of biography and saved countless hundreds of native Indians through his eradication of man-eating tigers and leopards in the early half of the 20th century.However, while the author is amazingly meticulous in describing the settings of his adventures, the paragraphs become hopelessly confusing and impossible to follow. Never have I seen writing so in need of diagrams, drawings or other visual aids to enhance the writer's stories. With the exception of one laughably unhelpful map in the back of the book, there are no such aids included in the book. A good editor or artist could easily take the author's prose and develop diagrams, and doing so would improve the reading experience immeasurably.It is also hard to believe that there is not a single photograph in the entire book, though I see reference in the comments to previous editions that did in fact contain photos. I cannot imagine the thought process that went into publishing an edition that contains neither diagrams nor photographs.Finally, the book contains numerous spelling and usage errors as well as transposed pages in some places. All in all, a very unprofessional job of editing and publishing what could otherwise be a first class reading experience.
Review by cwflatt
16/06/2015
We are so fortunate to live where we are the top of the food chain. When man is not at the top of the food chain it is harder to get their than you think even with our superior mind and weapons.
Review by amerynth
16/06/2015
What makes Jim Corbett's "Man-Eaters of Kuamon" so wonderful is his eye for detail. Corbett traveled on foot across India hunting man-eating tigers from in the 1920's and 1930's. His book, not only reports his adventures stalking tigers, but gives a great sense of the jungle and a small taste of the people living in the region. His tales are so descriptive, you can really imagine yourself next to him hearing a tiger's roar disconcertingly close by as you're crouched in the bush or up a tree. Very entertaining reading.
Review by mahallett
16/06/2015
Also in the Oxford India Paperbacks series | View all