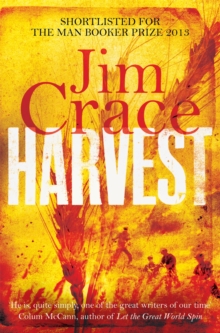 Description
As late summer steals in and the final pearls of barley are gleaned, a village comes under threat.
A trio of outsiders - two men and a dangerously magnetic woman - arrives on the woodland borders triggering a series of events that will see Walter Thirsk's village unmade in just seven days: the harvest blackened by smoke and fear, cruel punishment meted out to the innocent, and allegations of witchcraft. But something even darker is at the heart of Walter's story, and he will be the only man left to tell it ...
Information
Format: Paperback
Pages: 288 pages
Publisher: Pan Macmillan
Publication Date: 01/02/2014
ISBN: 9780330445672
Other Formats
EPUB from £7.19
CD-Audio from £15.45
Free Home Delivery
on all orders
Pick up orders
from local bookshops
Reviews
Showing 1 - 2 of 2 reviews.
Review by SChant
16/06/2015
Got about half-way through and gave up. I could see it was well written but my god! the style was totally monotone. The central character was flat, everyone else was barely sketched, and the story (such as it was) was desperately dull.
Review by Bridgey
27/08/2015
Harvest - Jim Crace ****What is it about?A bit of a strange book this. We follow the life of a village over seven days as it begins the difficult transition period from crop growing to sheep farming. The story is relayed through the eyes of a villager (Walter Thirsk) who became part of the community some twelve years previous, yet despite this is still seen by many as an 'outsider'. One day 3 new travellers show up on the land boundary with a view to joining the villagers, unfortunately this coincides with a fire that breaks out. What unfolds over the next few hundred pages is a lesson in humanity and the human condition, with characteristics that seemingly have remained unaltered throughout the generations. We encounter bravery, cowardice, superstition and bullying. We see the best in man and the worst, in Harvest, Crace has created a soap opera for the middle ages. Times are changing, the old ways of life are being pushed to one side and new farming methods are being introduced, uncertainty is rife and when the landowners cousin makes an appearance no ones future is safe.What did I like?For a start the novel seems incredibly well researched, it has numerous facts and details that a reader with even a slight interest in history will be enthralled by. Crace has created a realistic world where many things that we take for granted today are just simply unobtainable to the villagers. For instance I had never really thought about how people of old perceived the way the presented themselves, with mirrors a rarity and only a fleeting glimpse of a reflection in a dirty puddle did they wonder how they had aged or how they looked to their loved ones? This is a time when even a small injury could become life threatening or make a man unable to complete his daily chores, and no detail is omitted. It's a time when a bad winter or a poor spring could spell starvation for villagers reliant on natures bounty and by using Thirsk as his vessel we feel each smart and indignation as they are delivered. The author writes prose that is almost poetry, and it reminded me more than a little of Cormac McCarthy (with punctuation), the landscape descriptions are vividly painted and the daily activities are given in minute detail.What didn't I like?I love many different kinds of books, from Stephen King to Charles Dickens, I am willing to try almost any genre, but there has to be a storyline to keep me fully hooked. And this is where Harvest lost a star for me. At times I felt the storyline became impacted by the vast amount of descriptive writing. The indecisiveness of the narrator dragged a little too much and I just kept thinking at times 'Please do something... anything'. This may sound a little harsh and I have to admit I still loved Harvest, but it kept a very good book from turning into an exceptional book.Would I recommend?Definitely. This is the first time I have encountered the author, and I believe he has said he will not be writing any further novels, but I will be checking out his back catalogue.