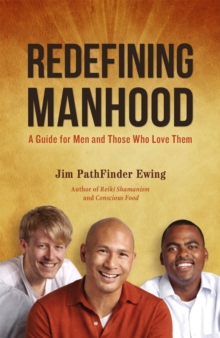 Redefining Manhood : A Guide for Men and Those Who Love Them
Paperback
Description
While women have forged ahead in the workplace and society, men are finding themselves increasingly marginalized, socially, professionally, economically - enough so that one book on bestseller lists recently has been titled The End of Men.
This has led to calls for a men's movement and courses are being taught, but they are failing to find traction among men.
The reason should be plain: where once Iron John stood as an archetype, along with the King, Warrior, Lover and Magician, those roles have become sadly outdated.
The old archetypes of manhood no longer apply. In this book Jim Pathfinder Ewing, author of six books on energy medicine and Native American spirituality and mindfulness, outlines why the current courses on men's empowerment are failing and offers a new way of looking at male roles that predates the modern era.
It is a "back to the future" approach to manhood that actually is better suited for the male psyche, having existed for thousands of years in all parts of the globe.
Modernized, this "survival kit" for the male gender can revitalize male and female relations on a more balanced and time-honored footing.
This book serves as a self-help manual for men, a guide for men's retreats, and a primer for wives, daughters, mothers and female friends to help the men in their lives adopt a healthier way of living in balance with a society that is rapidly shifting its roles. Other books on this topic repeat tired stereotypes of the "king," "lover," "warrior," "magician" and similar shorthand versions of men's roles; but those roles no longer hold much value in today's society.
In a society where women have more education and higher earning capacity than men, a woman can be "king." Women no longer sit idly waiting to be awakened by a Prince Charming; they are active lovers, emancipated from the Sleeping Beauty archetype.
If men try to adopt outdated "lover" roles, they find themselves alone, even pitied.
Women are warriors, and magicians, and welders, firefighters and CEOs.
An "Iron John" who wishes to retreat into what he is taught is his strength in masculinity - the wild man of ancient times - will find himself alienated and out of step with reality.
Conversely, if men try to adopt feminized versions of men's roles, they will find themselves equally marginalized.
Women don't need men to be women. Nor do they need men who patronize them. This book teaches men how to be men in a new (yet time-tested way) by reevaluating how they were brought up and determining which behaviors are suitable for adopting, and which are suitable for rejecting. In "Redefining Manhood", the author rejects what he terms outdated male archetypes that he asserts are no longer valid in our rapidly changing society.
Rather than "Iron John" and "Wild Man," he sees men who are compassionate, rational, intuitive and judicious in their use of force.
They do not traffic in fear and anger as means to a self-serving end, promoting patriarchy and domination, but see the world as a place of competing choices where responsibilities are shared and impacts of behavior are carefully assessed.
Our Western society has been out of balance since Roman times, he says, while Native American and other indigenous societies adhered more closely to a natural way of being.
In the writer's view, no longer is being male a ticket to be thoughtless, wanton, ignorant or unflinching in projecting indiscriminate power.
He is no longer a King, unless one assumes he shares the crown; he is not a lover any more than his partner with whom he shares intimacy; and he must not allow himself to be a warrior, which in a constant state of war warps our sense of society and social obligations, unless he chooses to be and the social good demands it.
He recognizes that peace, not war, is the natural state of humankind, that all human beings, regardless of roles or social stature, are stakeholders in the future of the planet, along with all the other beings of the earth, and that living in balance is the way of all nature. The focus of the book is not, however, to create new archetypes, but to help individuals define themselves based on spiritual and commonsense principles that have guided humankind in societies around the globe for thousands of years.
This is not so much the "new" male, as the new incarnation of the male as men have been in previous times before our world got so out of kilter, in harmony with women, elders, children and other men as responsible stewards of their world.
Information
Format:Paperback
Pages:176 pages
Publisher:Kaminn Media Ltd
Publication Date:14/04/2015
Category:
ISBN:9781844096602