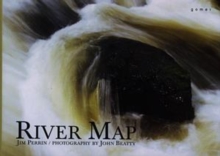 Description
River Map re-traces the exploratory journey undertaken by Jim Perrin - Telegraph columnist and author of award-winning books on mountaineering - from the mouth to the source of the well-known river Dee in north-east Wales.
Far more than a physical record of the environment and habitat of the area, it is a highly personal and deeply probing account of the urge itself to discover in its many dimensions a region haunted by a long history of conquest and resistance.
Jim Perrin also muses upon man's fascination with 'uncovering' - or at least witnessing - the mysteries of land and water, not least of which is the source itself of the river Dee.
Complementing Jim Perrin's fluidly written story of the Dee are over 40 colour photographs taken by his artistic collaborator John Beatty.
Like the text itself, the photographs are far more than merely descriptive representations of the journey to the river's source.
They offer what could be called a truly aesthetic testimony to the beauty of the journey and also to man's ongoing fascination with such journeys. Born and brought up in post-war Manchester, Jim Perrin found a classic escape from city life in rockclimbing, and has since become a pioneer in the field.
His biography of Menlove Edwards won the Boardman Tasker Award for Mountaineering Literature and his essays on rockclimbing have been acclaimed as among the best writing on the subject.
His books include Menlove, Mirror in the Cliffs, Visions of Snowdonia, On and Off the Rocks and Yes, to Dance.
Spirits of Place, published by Gomer Press, appeared in 1997.
Jim Perrin has lived in Wales for over thirty years, working as a guide, shepherd and writer.
Information
Format: Hardback
Pages: 70 pages
Publisher: Gomer Press
Publication Date: 01/08/2002
Category: Photographic reportage
ISBN: 9781859029961
Free Home Delivery
on all orders
Pick up orders
from local bookshops