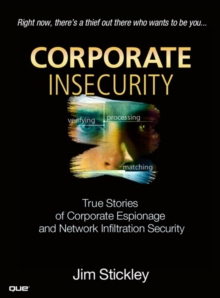 Corporate Insecurity : True Stories of Corporate Espionage and Network Infiltration
Paperback
Description
A shocking tell-all look at corporate security, from a white-hat hacker who's spent years breaking into banks, insurers, and hospitals!
If you assume that the businesses you deal with are looking after your data securely, you're in for a shock.
Companies are only as secure as their weakest link - this book shows just how weak this link can be. Corporate Insecurity details frightening tales of corporate espionage that have never been told before.
It includes from-the-trenches advice on making safe security holes: from technical issues to training, physical layouts to security mindsets.
Written by Jim Stickley, one of the world's most well-known experts on corporate security and identity theft.