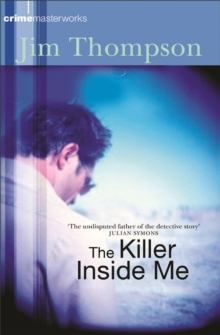 The Killer Inside Me
Paperback
Description
THE KILLER INSIDE ME has been a cult classic since its first publication in 1952.
Also a major motion picture starring Casey Affleck, directed by Michael Winterbottom.Deputy Sheriff Lou Ford is a pillar of the community in his small Texas town, patient and thoughtful.
Some people think he's a little slow and boring but that's the worst they say about him.
But then nobody knows about what Lou calls his 'sickness'.
It nearly got him put away when he was younger, but his adopted brother took the rap for that.
Now the sickness that has been lying dormant for a while is about to surface again - and the consequences are brutal and devastating.
Tense and suspenseful, THE KILLER INSIDE ME is a brilliantly sustained noir crime masterpiece.
Information
Format: Paperback
Pages: 224 pages
Publisher: Orion Publishing Co
Publication Date: 01/08/2006
Category: Crime & mystery
ISBN: 9780752879581
Free Home Delivery
on all orders
Pick up orders
from local bookshops
Reviews
Showing 1 - 3 of 3 reviews.
Review by jbrubacher
16/06/2015
A psychopath narrates the events as those around him who've trusted him their whole lives start to understand what he is. He murders, he lies, he puts on a terrific act, but it all starts to catch up to him. And this is no Dexter Morgan. This is a killer who is really disturbing, and who is obviously shaped by awful events in his childhood.The way the book is written you can see the cracks forming in his facade, and the lies he tells himself to stop himself from seeing them. You witness the way he tries to manipulate those around him, when it works and when it doesn't. Although it's not very fun to experience these things with the guy, it's very well written. Because it's so subtle it feels true. And the book ends in a way that you could interpret a few ways. Maybe he paid his dues, or maybe he won. As the psychopath might say, it all depends on where you're standing.I wouldn't recommend this book unless you're interested in this kind of mental illness, or interested in very realistically disturbing protagonists. I'm glad I read it, but it's a difficult thing to read. It gets four stars from me because it does what it does so well.
Review by HeikeM
16/06/2015
What a wonderful story. Much liked pillar of the community Sheriff Lou Ford is a little bit slow and boring but the people of the Texas town like him. But they don't know about the sickness that nearly got him put away when he was young. And now Lou is loosing control to the sickness again and nobody is there to keep an eye on him. And when too many people of the town end up dead his colleagues and friends begin to wonder.This brilliantly written suspense story takes you into the mind of Lou so you are with him at all times and slowly come to understand his way of thinking. You start believing his logic, following his warped path of justification until you want him to succeed and come out the winner. That's what I liked most about this novel, because really you should detest this person, want him put away - I found my self agreeing with his way of reasoning way too often. Well written, fantastic story, very interesting characters.
Review by Bridgey
27/08/2015
The Killer Inside - Jim Thompson ***I had never heard of Jim Thompson, but browsing in a bookshop came across this. Stephen King recommended the author on the cover so I decided to pick it up and give it a try. I was surprised that it was written so long ago (1952) but I am quite a fan of the Noir period. James M Cain has to be one of most recently discovered favourite authors.What is it about?The book is told through the eyes of a small town deputy by the name of Lou Ford, a man who has created a fake persona as a slightly slow but lovable member of the community. We experience his paranoia and disturbed view of the world that leads him into a killing spree. Fuelled by past events from his childhood Ford meticulously plans each murder, but how long will it be before he is found out? What did I like?The action when it comes is very vivid, Thompson leaves very little to the imagination as we are described blow by blow the injuries inflicted on Ford's victims. I enjoyed the way that we are only allowed to experience Ford's own thoughts, this left me second guessing along with him whether or not the other characters were believing his stories or not. It was interesting to see how he perceived each situation and as his mental disease became more apparent to the reader, I also found myself looking at past events in a new light.What didn't I like?I understand the whole noir genre, and the need to keep language short and direct, but for me the novel was just a little too extreme. At times I lost myself in the plot and wasn't entirely sure what was happening. I admit, maybe this was just as much down to me as the author, but for me it spoilt the flow of the novel. Also I wish the author had explored Lou's early life a little more especially as the events directly related to his present day frame of mind. I love the character of Lou, but can't but help wonder what more have become if Cormac McCarthy had got his hands on him. Reminds me more than little of Child of God.Anyway, by no means a poor read, just didn't hit enough buttons for me to be able to give it more than 3 stars. Looking at Amazon it has more than it's fair share of 5 star reviews so I am willing to accept that the fault is likely to be with me. I don't think I will actively seek out any more of Thompson's works, but if one 'fell' into my lap I would possibly give it a try.