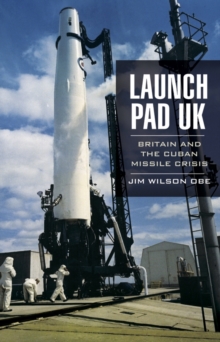 Launch Pad UK : Britain and the Cuban Missile Crisis
Hardback
Description
For most British people the weekend of 27/28 October 1962 could so very easily have been their last weekend on earth, yet astonishingly the fact that Britain's nuclear deterrent forces went to an unprecedented level of readiness was kept secret from the public.
Thor nuclear-tipped ballistic missiles stood on a round-the-clock wartime state of alert ready to be fired, these were the 'other' missiles of the Cuban Missile Crisis, which made Britain, in effect, America's launch pad.
During the height of the crisis both RAF Bomber Command and the US Strategic Air Command were poised at the highest states of readiness.
Both were ordered to a level of war readiness unparalleled throughout the whole of the forty years of Cold War.There is evidence to suggest that had the US needed to launch an air strike against Russian missiles in Cuba, President Kennedy might have been willing to absorb a Soviet nuclear assault on a NATO ally without retaliation, if it would have avoided escalation to World War Three.It is sobering to those who lived through that period that, the British Ambassador to Cuba commented: 'If it was a nuclear war we were headed for, Cuba was perhaps a better place to be than Britain!'
Information
Format: Hardback
Pages: 208 pages, 35 Illustrations
Publisher: Pen & Sword Books Ltd
Publication Date: 16/10/2008
Category: British & Irish history
ISBN: 9781844157990
Free Home Delivery
on all orders
Pick up orders
from local bookshops