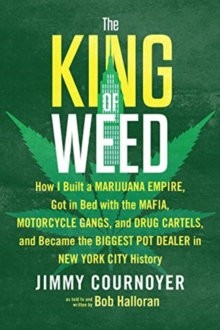 The King of Weed : How I Built a Marijuana Empire, Got in Bed with the Mafia, Motorcycle Gangs, and Drug Cartels , and Became the Biggest Pot Dealer in New York City History
Paperback / softback
Description
He was an easygoing French-Canadian playboy . . . who became the biggest marijuana dealer in NYC history. Jimmy Cournoyer wasn't just another teenager selling weed-he was able to turn his hobby into a global force, earning profits of over $1 billion. The King of Weed details how a high school dropout was able to turn a couple of pot plants into a billion-dollar business.
Follow the rise and fall of Cournoyer-also known as The Pot Playboy, the King of Pot, and by his alias Cosmo-as he surpassed the thousands of low-level drug dealers operating from their bedrooms and backyards, making it to the top of his industry. At the height of his success, Cournoyer controlled a drug trafficking empire that involved the Hell's Angels, the Sinaloa Cartel, Native American smugglers, and the Rizzuto and Bonanno crime families.
He was friends with former MMA fighter Georges St. Pierre, dated Brazilian model Amelia Racine, and partied with Leonardo DiCaprio in Ibiza. With first-hand accounts from Cournoyer himself, as recounted to and written by journalist Bob Halloran, The King of the Weed is the remarkable, intimate story of one of New York City's most lucrative drug kingpins-until it all came crashing down when federal agents apprehended him after a chance tip ignited a seven-year investigation.
Readers will be astounded by his creative business planning, risk assessment, and decision making-all within the eye of a violent, unpredictable, criminal enterprise.
Information
Format: Paperback / softback
Pages: 300 pages, Photos from Jimmy's personal collection
Publisher: BenBella Books
Publication Date: 13/02/2020
ISBN: 9781948836067