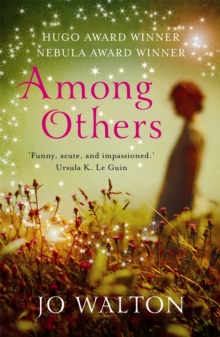 Description
'It doesn't matter. I have books, new books, and I can bear anything as long as there are books.'Fifteen-year-old Morwenna lives in Wales with her twin sister and a mother who spins dark magic for ill.
One day, Mori and her mother fight a powerful, magical battle that kills her sister and leaves Mori crippled.
Devastated, Mori flees to her long-lost father in England.
Adrift, outcast at boarding school, Mori retreats into the worlds she knows best: her magic and her books.
She works a spell to meet kindred souls and continues to devour every fantasy and science fiction novel she can lay her hands on.
But danger lurks... She knows her mother is looking for her and that when she finds her, there will be no escape.
Information
Format: Paperback
Pages: 416 pages
Publisher: Little, Brown Book Group
Publication Date: 01/03/2013
Category: Science fiction
ISBN: 9781472106537
Other Formats
EPUB from £4.99
Hardback from £13.49
Free Home Delivery
on all orders
Pick up orders
from local bookshops
Reviews
Showing 1 - 3 of 3 reviews.
Review by SChant
16/06/2015
Only read "Farthing" before - thought it was OK, not great - but this one is absolutely wonderful. It perfectly captures the magic and loneliness and intensity of adolescence. I absolutely loved it's depiction of the thrill of discovering science-fiction and fantasy, the new worlds and new ideas all bubbling up and inter-connecting. A marvellous book.
Review by rlangston
16/06/2015
Well written, good characters but overall disappointing. Weak narrative and ending, and not really SF or fantasy at all.Like some other reviewers I don't believe the magic in the story was intended to be real, but more a rationalisation of the experiences of the narrator.
Review by Yarrow
16/06/2015
Mild spoilers:I enjoyed reading this book, but it was a little unsatisfying in the end. I still had so many questions about what was going on when the book ended, most notably about the evil witch aunts -- the author did a really good job of building up the suspense and the weirdness, which then didn't go anywhere. But overall, the narrators voice was strong and charming, and really kept you hooked in, and the sense of time and place was very vivid and excellently done. Initially I was annoyed at all the Science Fiction book references, as I'd read so few of them (really only Ursula LeGuin and half of the Chronicles of Amber), and worried which plot points I was missing by not having read a myriad of other books. However, in the end I let those bits wash over me, and what shone through was a very real sense of an isolated teenage girl I clearly remember being myself, who has just read a Science Fiction book which forced her to view the world in a completely new way. And while she is basking in this revelation she wants everyone she knows to read the book too, so that they can understand and maybe also have her amazing transformative experience. And the other people say 'Oh, I don't read Science Fiction, I only like things that are true'. Ouch.