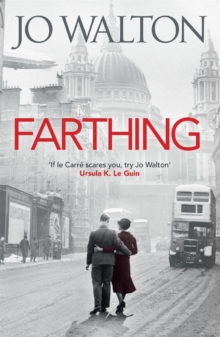 Description
Eight years after they overthrew Churchill and led Britain into a separate peace with Hitler, the upper-crust families of the "Farthing set" are gathered for a weekend retreat.
Among them is estranged Farthing scion Lucy Kahn, who can't understand why her and her husband David's presence was so forcefully requested.
Then the country-house idyll is interrupted when the eminent Sir James Thirkie is found murdered - with a yellow Star of David pinned to his chest.Lucy begins to realize that her Jewish husband is about to be framed for the crime - an outcome that would be convenient for altogether too many of the various political machinations underway in Parliament in the coming week.
But whoever's behind the murder, and the frame-up, didn't reckon on the principal investigator from Scotland Yard being a man with very private reasons for sympathizing with outcasts and underdogs - and prone to look beyond the obvious as a result.As the trap slowly shuts on Lucy and David, they begin to see a way out - a way fraught with peril in a darkening world.
Information
Format: Paperback
Pages: 320 pages
Publisher: Little, Brown Book Group
Publication Date: 06/02/2014
Category: Science fiction
ISBN: 9781472112972
Free Home Delivery
on all orders
Pick up orders
from local bookshops
Reviews
Showing 1 - 1 of 1 reviews.
Review by isabelx
16/06/2015
I did react, I know I did. It was fury, at Mummy, and at the rest of them, whoever they were, for being so stupid, so prejudiced, so unthinkingly vile as to think that just because David was Jewish he was likely to be a murderer. If I'd never known David I might have carried on thinking all these people were basically good people, with odd little quirks perhaps, but I'd never have understood how foul they were. David took the blinkers off for me, and I've never been sorry, because who would want to go around in a world that's like a very thin strip of pretty flower garden surrounded by fields and fields of stinking manure that stretch out as far as the eye can see? And it's not as if those people are the only people in the world, though they may imagine they are. I was glad that the Kahns escaped to Canada in the end, but it was all a bit easy for them, once they got in contact with Abby.
Also in the Small Change series | View all