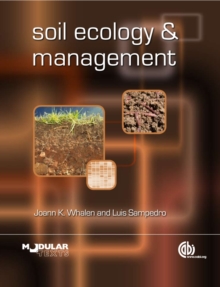 Soil Ecology and Management
Paperback / softback
Description
Soil ecology is the study of interactions between the physio-chemical components of the soil and organisms living within the soil.
Humans are highly dependent upon the soil ecosystem, which provides food, fiber, fuel and ecological services, such as the recycling of atmospheric gases.
It is therefore important to understand the function and nature of the soil ecosystem in order to predict and mitigate the long term consequences of present day actions.
Soil Ecology and Management describes the organisms inhabiting the soil, their functions and interactions and the dimensions of human impact on the activity of soil organisms and soil ecological function.
Chapters discuss basic soil characteristics and biogeochemical cycling, key soil flora and fauna, community-level dynamics (soil food webs) and the ecological and pedological functions of soil organisms.
Unlike other soil biology and ecology textbooks, the authors also convey a better understanding of how human activities impact upon soil ecology in a section on ecosystem management and its effects on soil biota and provide a unique perspective on the utility of soil organisms.
Information
Format: Paperback / softback
Pages: 320 pages
Publisher: CABI Publishing
Publication Date: 15/12/2009
Category: Soil science, sedimentology
ISBN: 9781845935634