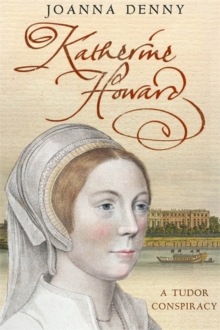 Katherine Howard
Paperback
Description
A riveting new biography of a much neglected Queen - the doomed child-bride of Henry VIII.
Joanna Denny, author of Anne Boleyn, reveals another sensational episode in Tudor history - illuminating the true character of Katherine Howard, the young girl caught up in a maelstrom of ambition and conspiracy which led to her execution for high treason while still only seventeen years old.
Who was Katherine, the beautiful young aristocrat who became a bait to catch a king?
Was she simply nave and innocent, a victim of her grasping family's scheming? Or was she brazen and abandoned, recklessly indulging in dissolute games with lovers in contempt of her royal position?
Joanna Denny's enthralling new book once again plunges the reader into the heart of the ruthless intrigues of the Tudor court - and gives a sympathetic and poignant portrait of a girl tragically trapped and betrayed by her own family.
Information
Format: Paperback
Pages: 304 pages, 16pp colour illustrations
Publisher: Little, Brown Book Group
Publication Date: 04/01/2007
ISBN: 9780749951207
Free Home Delivery
on all orders
Pick up orders
from local bookshops
Reviews
Showing 1 - 1 of 1 reviews.
Review by john257hopper
16/06/2015
For much of its duration, this is not really a biography, as not enough details of the subject's earliest life are known. It is really an account of the Howards' relationship with Henry VIII and is interesting for that, but the author's style is a bit journalistic and sometimes repetitive, for example the constant reiteration of the point that Katherine's uncle the Duke of Norfolk was simply using her as a pawn to pursue his dynastic ambitions. The author makes a good point that one's attitude towards Katherine depends in part on her assumed age at the time of her liaisons, about which there is disagreement, but she makes a good case for her birth as being in 1525, making her only 15 at her marriage to the King and probably less than 17 at her execution, thus making her less of the knowing late teenage flirt as which she has often been depicted and more of an abused victim. On the other hand, the author seems to be rather overly uncritical of Ann Boleyn and I feel no desire on this basis to read her biography of that earlier queen. Finally, the referencing is poor - there is a list of sources for each chapter, but no link given between these sources and quotes in the chapter itself; there are also random footnote references in the chapter that relate to nothing. Overall, somewhat disappointing.