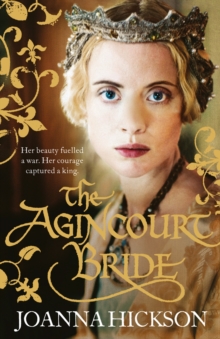 The Agincourt Bride
Paperback
Description
The best-selling novel about the queen who founded the Tudor dynasty. `A bewitching first novel...alive with historical detail' Good Housekeeping. Her beauty fuelled a war.Her courage captured a king.Her passion would launch the Tudor dynasty. When her own first child is tragically still-born, the young Mette is pressed into service as a wet-nurse at the court of the mad king, Charles VI of France.
Her young charge is the princess, Catherine de Valois, caught up in the turbulence and chaos of life at court. Mette and the child forge a bond, one that transcends Mette's lowly position.But as Catherine approaches womanhood, her unique position seals her fate as a pawn between two powerful dynasties.
Her brother, The Dauphin and the dark and sinister, Duke of Burgundy will both use Catherine to further the cause of France. Catherine is powerless to stop them, but with the French defeat at the Battle of Agincourt, the tables turn and suddenly her currency has never been higher.
But can Mette protect Catherine from forces at court who seek to harm her or will her loyalty to Catherine place her in even greater danger?
Information
Format: Paperback
Pages: 592 pages
Publisher: HarperCollins Publishers
Publication Date: 01/01/2013
Category: Historical fiction
ISBN: 9780007446971
Other Formats
EPUB from £4.99
eAudiobook MP3 from £13.59
Free Home Delivery
on all orders
Pick up orders
from local bookshops
Reviews
Showing 1 - 4 of 4 reviews.
Review by Pattymclpn
16/06/2015
This book is the story of princess Catherine de Valois. She is the daughter of King Charles VI of France and Queen Isabeau of Bavaria. Mette becomes a wet-nurse for princess Catherine. With a mad father as a king and a demanding and manipulating, cold mother, Catherine turns to Mette for love and companionship. Mette tells us the tale of Catherine's marriage to Henry V and her transformation into the Queen of England. The road to queen and happiness is rocky and treacherous. Who can she trust? The villainous and evil Duke of Burgundy uses and abuses her. Her own brother, Charles the Dauphin, with whom she was once close to says Catherine is a traitor at the end of the book.This book is the type of historical fiction that I enjoy. It is full of deception and intrigue. There were wonderful descriptions of Catherine's gowns. This is not a romantic story at all, if you are looking for romance this is not for you. The novel weaves together fiction and history well.I have not decided if I like the new book covers with models dressed as historical figures. The period clothes are beautiful, but this model has a very haunting look. I give this book 4 out of 5 stars. I definitely liked it, but there was nothing unique or outstanding about it. Even so, I will of course purchase the next book.The Tudor Bride is the next book in the series to be released in January of 2014. It will pick up where The Agincourt Bride ended.
Review by BrokenTeepee
16/06/2015
I knew a little about Catherine de Valois prior to reading this book but not as much as I know other famous women in history which is a bit surprising given that she is the matriarch of the Tudor dynasty. This novel is told from the point of view of her nursemaid, Guillamette. The tale starts with Catherine as an infant and it progresses until just after her marriage to Henry V. (I don't think I've giving anything away here as the history is well recorded.)The story focuses on Catherine but also on Gullamette, called Mette and her family. This I found interesting because it showed the differences between the classes. France was not exactly well governed with Charles VI - modern historians are not sure what his brain disorder was but whatever it was it certainly passed to Henry VI in England through Catherine. I enjoyed reading this tale of a girl's change from child to strong young woman. It was a time when women had little power and control over their own lives - even women of wealth. Catherine was little more than a pawn for her mother then her brother to play as they tried to negotiate with Henry V of England. Catherine and Mette were well developed characters as were Mette's children. Some others were more caricatures - Queen Isabelle for example seemed to be a one note character and with the lack of an author's note I had to go a'googling and much of what I found disagreed with the portrayal in the book. I respect the fiction part of historical fiction but I also welcome a note at the end of a story to help me parse that fiction from fact.The Agincourt Bride was an easy read - I don't think it took me much more than a day and a half. I had the benefit (?) of a power outage which gave me many hours of uninterrupted reading time. I did find myself lost in the story and not wanting to put it down to cook dinner. It did keep me enthralled despite some undeveloped characters and somewhat of a misnomer if you ask me on the title - Agincourt barely appears in the book and Catherine doesn't marry Henry V until several years after that decisive battle.I am very much looking forward to the next chapter (and book) in Catherine's life as told by Ms. Hickson - The Tudor Bride.
Review by Mishker
16/06/2015
The Agincourt Bride tells the story of Catherine de Valois from her birth through her marriage to King Henry V of England. Told through the eyes of Catherine's faithful nurse turned Keeper of the Robes, Mette, her story is recreated with a caring and knowledgeable tone that only one so close to Catherine could have. I do love history written from a women's perspective and learning about women in history that I didn't know a lot about. The Agincourt Bride fulfilled both of these for me, so needless to say, I enjoyed this book. I very much liked that this was written from Mette's perspective. This gave me a deep sense of caring and compassion for Catherine as well as an older and outside voice in order to narrate what happening when Catherine is only an infant as well as give Catherine knowledge from outside the court's walls. It was interesting to learn about Catherine's life as a child, how she and her siblings were essentially neglected. This is where Mette's character is the most intriguing, to learn about the other side of courtly life and the ins and outs of the nursery. Another captivating character is Catherine's father, the Mad King, Charles VI. Catherine's first encounter with her father is when he is raving about being made of glass; however, this does not seem to tarnish Catherine's view of him forever and she even helps him through his delusions later in life. As Catherine grew and matured it would have been nice to know a little more of her own feelings about what was happening to her as she is used over and over as a political pawn. We get to know some of this through letters that Catherine has written but were never sent; however the point of view is from Mette's perspective throughout. A great start to learning more about Catherine de Valois. I'll be reading about the rest of her life in the next installment, The Tudor Bride soon. This book was provided for free in return for an honest review.
Review by dark_phoenix54
16/06/2015
The Agincourt bride is Catherine de Valois, daughter of Charles VI, the mad king of France. Her mother, Isabeau of Baveria, doesn't care about her children and neglects them until she needs them for her plotting. So when Catherine is born, a wet nurse is needed immediately. Teen aged Guillaumette (Mette) has just had her first child, which does not survive. She is pressed into service to nurse the newborn Catherine. A bond is formed, like that between mother and child. Mette loves Catherine as much as she would her own child- in fact, sometimes it seems like she loves Catherine more than she does her own two children who are born later. She cares for Katherine- and two of her brothers- while she is a toddler, but they are split up when Catherine is sent to a nunnery to be educated. They do not meet again until Catherine is a teenager and is brought back to court to be used as bait for the English king, Henry V. Catherine has Mette brought back to court as her lady of the robes, giving her a post which allows her to be at court. As battles between Henry's armies and the French forces rage (including the famous Battle of Agincourt where so many French knights were killed) and diplomacy goes back and forth, Catherine is one minute to be given to Henry and the next minute to have an uncertain future. She has to deal with her monstrous mother, and, worse, the Duke of Burgundy, a nasty piece of work if there ever was one. Catherine has few friends- everyone spies on each other- and Mette is the one person who knows everything about her. The story is written in first person by Mette, who knows how to read, write and do arithmetic because she was brought up in the family baking business. It's written with a sense of distance from the subject, both in time and proximity. We get to watch Catherine grow and mature and develop an inner self that is like a slim blade of steel. Her family is incredibly dysfunctional; her mother declares her own son a bastard, her father is psychotic, another son has an eating disorder that kills him, and her mother allows Burgundy to do what he wishes with Catherine. Mette looks on with her middle class sensibility that allows us to see the nobility with no varnish of adoration. Interspersed are letters that Catherine wrote but never sent, showing us her heart. I enjoyed the book, although at times it seemed slow. I suppose that is necessarily so, as much of Catherine's life is spent waiting to see what will be arranged for her. The book is dense with details that bring the time and people to life vividly, right down to the meals they ate and the clothes they wore. While this era – the early 1400s- is not as popular as the following Tudor era, the Tudors dynasty would have never existed had it not been for Catherine.