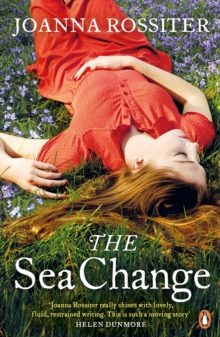 Description
A Richard and Judy Summer 2013 Book Club pick. The Sea Change by Joanna Rossiter is a haunting and moving novel about a mother and a daughter, caught between a tsunami and a war. Yesterday was Alice's wedding day. She is thousands of miles away from the home she is so desperate to leave, on the southernmost tip of India, when she wakes in the morning to see a wave on the horizon, taller than the height of her guest house on Kanyakumari beach.
Her husband is nowhere to be seen. On the other side of the world, unhappily estranged from her daughter, is Alice's mother, Violet.
Forced to leave the idyllic Wiltshire village, Imber, in which she grew up after it was requisitioned by the army during the Second World War, Violet is haunted by the shadow of the man she loved and the wilderness of a home that lies in ruins. As Alice searches for her husband in the debris of the wave she is forced to face up to some truths about herself she has been hiding from.
Meanwhile Violet is compelled to return to Imber to discover just why she abandoned her great love ...'A great theme: impermanence, and the sweeping away of everything we believed was certain. Joanna Rossiter really shines with lovely, fluid, restrained writing.
This is such a moving story ' Helen Dunmore Joanna Rossiter grew up in Dorset and studied English at Cambridge University before working as a researcher in the House of Commons and as a copy writer.
In 2011 she completed an MA in Writing at Warwick University.
The Sea Change is her first novel. She lives and writes in London.
Information
Format: Paperback
Pages: 288 pages
Publisher: Penguin Books Ltd
Publication Date: 09/05/2013
ISBN: 9780241964156
Free Home Delivery
on all orders
Pick up orders
from local bookshops
Reviews
Showing 1 - 2 of 2 reviews.
Review by nicx27
16/06/2015
I was really looking forward to this book which seemed from the blurb to be something I would really enjoy. Unfortunately, I felt it was hard to get into and it left me ultimately feeling disappointed.There are two stories. One, the dominant one, is about the evacuation of a small village called Imber during the Second World War so that it could be used by soldiers. Violet, her sister Freda and their mother are forced to move away from their homes. The other story, which doesn't feature much is that of a tsunami in India in 1971 and Violet's daughter Alice who is there at the time.For much of the book there is no obvious connection between the two stories. Although they feature mother and daughter, it all felt a bit like two random stories put together. I also found it a hard book to get into and engage with, in fact I never did really.I think the writing has quality, but it needed more feeling and more emotion to draw this reader in.
Review by Her_Royal_Orangeness
16/06/2015
The Sea Change, a remarkable debut novel by Joanna Rossiter, tells the intertwined stories of a mother and a daughter and their experiences in two very different yet similar events based on historical incidents. Violet grew up in the village of Imber, a bucolic place populated with memorable characters. A strong-willed pastor's daughter, she experiences an idyllic English childhood until the military requisitions the village during World War Two. Violet loses her home, her family, her friends…and she has never been able to forget.Alice, Violet's daughter, is traveling across Asia with the man she has just married when they are separated by a devastating tsunami. As she frantically searches for him, she reflects on her life, her love for her new husband, and her tumultuous relationship with her mother.Recurring themes and imagery connect the two disparate stories, one set in England in the prewar years and the other set in 1971 in India. With an elegiac tone and hauntingly lovely prose, The Sea Change explores the impact of loss and misunderstanding and the importance of love and relationships. I found the book deeply moving and wonderfully written. As evidenced by this strong first novel Joanna Rossiter is a talented author and one to watch.