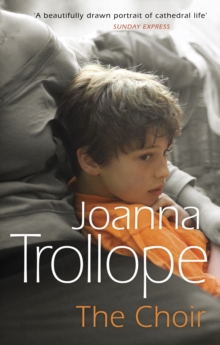 Description
In the gentle precinct of Aldminster Cathedral, crisis loomed.
The urbane and worldly Dean (Purdey guns and the regular arrival of a delivery van from Berry Brothers) wanted nothing so much as to restore and beautify his beloved Cathedral - even if it meant sacrificing the Choir School to pay for it.
Alexander Troy, Headmaster of the school, a conscientious man, somewhat out of his depth with his elusive and poetical wife (once seen walking barefoot in the dew across the Cathedral Close) was determined that nothing and no-one - certainly not the overbearing Dean - should destroy the Choir.
As the rift widened into machiavellian dimensions, many others found themselves caught in the schism - Leo Beckford, brilliant but wayward organist, repelling the adoration of the Dean's dreadful daughter - the gentle, left-wing Bishop, trying to soothe the angry protagonists - Sally Ashworth, mother of the leading chorister, fighting loneliness and an erring and absent husband.
Each frail and human dilemma took its part in the greater turmoil of Chapter and Close and the final battle for the survival of the Choir.
Information
Format: Paperback
Pages: 320 pages
Publisher: Transworld Publishers Ltd
Publication Date: 12/11/1992
ISBN: 9780552994941
Free Home Delivery
on all orders
Pick up orders
from local bookshops
Reviews
Showing 1 - 2 of 2 reviews.
Review by LyzzyBee
16/06/2015
(30 December 1993)Her first novel, and perhaps she chose to consciously ape her distant relative, Anthony, in setting this in a Cathedral Close. We meet a variety of characters, all connected to the Cathedral and its boys' choir in one way or another, from the school headmaster to the old school left-wing city councillor who happens to have a grandson in the group. As money tightens and passions run high, splits appear in all sorts of likely and unlikely places. Will anyone be able to save the day? Will broken relationships be repaired? Does anyone actually want them to be?What's interesting about this book, looking back from a perspective of having read almost all of her contemporary novels, is that this doesn't really feel like a first novel. It just feels like a Joanna Trollope novel. All of her stylistic quirks are there: people start padding around almost immediately, and "They all," she thought as she wrote her review, "split their utterances in a weird way" (I once wrote a whole review in her style – deary me!). She has women who are not good wives, women who have Agas, children, hapless men … all as in all of her books. It's quite an achievement to have such a homogenous whole and very comforting to her fans.I picked this one up for re-reading precisely because I wanted to check whether I should keep these. And I still don't know. It's not like the "quest" books, where a re-read of a Dave Gorman has reminded me how fun those are – I really am torn. I've had these and my Mary Wesleys (in a similar edition) for 20 years. But with pressure on the bookshelves and these not exactly invisible on the charity shop and library bookshelves, do I NEED to keep them? I don't even have the later ones, even though I've read them: I didn't need to keep those! The jury is still out!
Review by johnthefireman
16/06/2015
I bought this after seeing the TV series and enjoying the music. It's a nice enough story set in an Anglican cathedral in the UK.