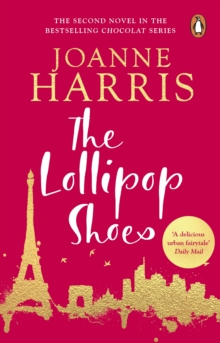 The Lollipop Shoes (Chocolat 2)
Paperback
Description
'Who died?' I said. 'Or is it a secret?' 'My mother, Vianne Rocher.' Seeking refuge and anonymity in the cobbled streets of Montmartre, Yanne and her two daughters live peacefully, if not happily, above their little chocolate shop.
Nothing unusual marks them out; no red sachets hang by the door.
The wind has stopped - at least for a while. Then into their lives blows Zozie de l'Alba, the lady with the lollipop shoes,ruthless, devious and seductive.
With everything she loves at stake, Yanne must face a difficult choice; to flee, as she has done so many times before, or to confront her most dangerous enemy...Herself.
Information
Format: Paperback
Pages: 592 pages
Publisher: Transworld Publishers Ltd
Publication Date: 21/04/2008
ISBN: 9780552773157
Free Home Delivery
on all orders
Pick up orders
from local bookshops
Reviews
Showing 1 - 5 of 9 reviews.
Previous | Next
Review by phoebesmum
16/06/2015
I'm never sure if it's really okay to like Joanne Harris, or if she's a bit naff. Let's go out on a limb and say yes, she probably is, but I find her quite readable anyway. This is a follow-up to 'Chocolat', with Vianne cowed and almost unrecognisable after her daughter's supernatural talents lead to tragedy, and easy prey for a travelling con artist (and worse). Rather unfortunately, the villain's the most colourful element in the book, but the rest of it jogs along fairly comfortably. As ever, Montmartre is romanticised out of all recognition, but that seems to be its main purpose in life these days.
Review by canalrat
16/06/2015
A Fun read, with magical descriptions of chocolate and people
Review by sarah_rubyred
16/06/2015
As a big fan of a lot of Joanne Harris's work, though very aware of how some of it just doesn't hit the mark, I wasn't sure how a sequel to the fabulous 'Chocolat' could be one of her good ones. Unfortunately I was right. Though an interesting story of how we cannot hide from ourselves in the end, and having to fight rather than flee 'the kindly ones', this just didn't sit right.Too long by half, if this had been the length of 'Chocolat', which I think it could have been quite easily by cutting out the repititious thoughts from both leading ladies, the identity theft could have made a decent thriller, instead I skim read it. It was such a creepy story, and it went on for so long that I rushed to get to the end where I knew things would work out. Disappointed.
Review by tillymint100
16/06/2015
I borrowed this from a friend who I had bought it for as a Birthday present. I re-read Chocolat before reading this and I am so glad that I did. I think however that overall I enjoyed this sequel more than Chocolat,
Review by sunfi
16/06/2015
The sequel to Chocolat, while the characters and settings in the first book were magical, I didn't find this to hold true for Lollipop Shoes. A few new characters were added in and the story lost its momentum for me, so I'm putting this one down and not finishing it.