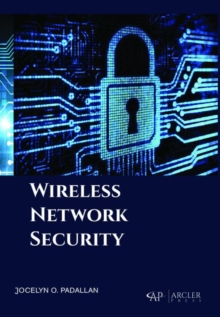 Wireless Network Security
Hardback
Description
Nowadays we are living in the era of wireless networks.
At this point, the quantity of remote telephones has superseded the number of the wired ones.
Wireless networks and LANs are utilized on a daily basis by a huge number of roaming clients.
Remote gadgets have turned out to be typical and necessary in workplaces, private homes, plants, organizations and healing facilities. What's more, technologists guarantee us a universe of omnipresent computing, in which bunches of small, untethered sensors and actuators will speak with one another, instantly dealing with our different needs and desires. Notwithstanding this inescapability, we are seeing a change of worldview: at first, wireless gadgets had restricted or no programmability and were overseen in a much-brought together design.
Today, high-level remote end user frameworks are undeniable PCs and play an inexorably dynamic part in the systems administration tools.
In the outrageous instance of multi-hop and ad hoc networks, the end user frameworks are the network.
Lamentably, this advancement is making new vulnerabilities.
Notwithstanding existing remote systems (and particularly wireless LANs) display various security shortcomings, some of which have been carefully settled posteriori.
It is currently evident that the security arrangements contrived for wired systems may not be utilized in that capacity to ensure the remote ones.
An extra issue is that the free for all to popularize rapidly new items and new services is in logical inconsistency with the plan of a well-thought (and potentially institutionalized) security design. At this book, it is a goal to keep omnipresent computing from turning into an unavoidable bad dream.
It contains an intensive portrayal of existing and imagined components conceived to ruin offenses against remote networks.
In fact, we trust that the insurance of remote networks now wants more consideration and a more deliberate approach compared to the earlier one. Notwithstanding the typical security worries of the systems administration, we have to address egotistical conduct.
The reason is that every remote correspondence makes utilization of a small amount of the range that has been and will remain a rare asset.
Additionally, most remote gadgets are battery-fueled, and for them vitality is rare too.
Subsequently, the conduct of a remote gadget can influence the administration appreciated by another, neighboring gadget.
Moreover, the conduct of a remote system can influence the execution of another remote system, particularly if the two systems work in a similar recurrence band.
Wherever suitable, we will make utilization of game theory to formalize the issues.
This book gives an intensive investigation of the real patterns in wireless networks and clarifies the suggestions as far as it concerns security and collaboration.
It gives a definite portrayal of the issues and an exact clarification of standard arrangements, and of potential arrangements generally.
In the following figure, you can have a clearer view of how the book is structured. The book is sorted in twelve chapters. In the first chapter, an introduction is presented, giving some essential data.
Chapter 1 depicts what challenges do existing wireless systems face and how they are secured.
Chapter 2 gives a depiction of future wireless systems and the possible challenges.
It distinguishes general patterns, for example, expanding decentralization and developing profitability of the gadgets and examines their suggestions as far as security and participation. Chapter 3 is committed to the troublesome issue of trust in wireless systems; it clarifies the connections between confide, security, and participation, and talks about the contrary method.
Chapter 4 gives an overview of the tools and methods to insure the principal operation of routing in wireless multi-hop systems, is secured.
At last, chapter five pinpoints to the pivotal issue of security in future wireless systems. In the next chapters, the book concentrates on the procedures planned to anticipate selfish conduct; in this manner, it vigorously depends on game theory and hypothesis.
Chapter six concentrates on the MAC layer and initially clarifies the strategies used by a Wi-Fi selfish minded client to expand its part of the transmission capacity, to the detriment of all other non-selfish clients; furthermore, it gives a specific investigation summary of egotistical conduct in clear ad hoc systems.
Chapter seven talks about the issue of selfishness in packet forwarding, and discloses why motivators to coordinate are required.
Chapter eight makes the troublesome inquiry of the conjunction of administrators in a similar piece of the range.
Chapter 9 depicts cases of protocols that urge selfish gadgets to embrace an alluring conduct.
Last, chapter ten contains a point-by-point depiction of those subjects of security and cryptography that are expected to comprehend the book. This book is proposed for Master's and PhD studies and additionally for analysts.
This book covers a significant measure of information; however, it clearly does not wish to cover everything.
This book is a prologue to security and cryptography and also an instructional exercise on diversion hypothesis.
The procedure we have embraced is to concentrate on the standards and to keep cases as bland as could be expected under the circumstances. Because of the steady development of the field, one of the significant difficulties of composing such a book is guaranteeing, to the point that it will have a sensibly long period of realistic usability (and that the material gained from this book has long-term worth).
Information
Format: Hardback
Pages: 275 pages
Publisher: Arcler Education Inc
Publication Date: 01/11/2017
Category: WAP (wireless) technology
ISBN: 9781773613055
Free Home Delivery
on all orders
Pick up orders
from local bookshops
Also by Jocelyn O. Padallan