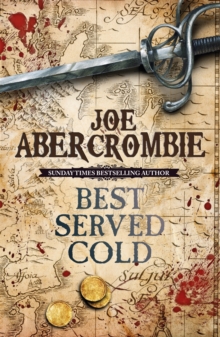 Best Served Cold
Paperback
Description
Springtime in Styria. And that means war.There have been nineteen years of blood.
The ruthless Grand Duke Orso is locked in a vicious struggle with the squabbling League of Eight, and between them they have bled the land white.
While armies march, heads roll and cities burn, behind the scenes bankers, priests and older, darker powers play a deadly game to choose who will be king.War may be hell but for Monza Murcatto, the Snake of Talins, the most feared and famous mercenary in Duke Orso's employ, it's a damn good way of making money too.
Her victories have made her popular - a shade too popular for her employer's taste.
Betrayed, thrown down a mountain and left for dead, Murcatto's reward is a broken body and a burning hunger for vengeance.
Whatever the cost, seven men must die.Her allies include Styria's least reliable drunkard, Styria's most treacherous poisoner, a mass-murderer obsessed with numbers and a Northman who just wants to do the right thing.
Her enemies number the better half of the nation. And that's all before the most dangerous man in the world is dispatched to hunt her down and finish the job Duke Orso started...Springtime in Styria. And that means revenge.
Information
Format: Paperback
Pages: 672 pages
Publisher: Orion Publishing Co
Publication Date: 01/06/2010
Category: Fantasy
ISBN: 9780575082489
Other Formats
EPUB from £6.99
Multiple copy pack from £20.59
Free Home Delivery
on all orders
Pick up orders
from local bookshops
Reviews
Showing 1 - 2 of 2 reviews.
Review by iftyzaidi
16/06/2015
I really liked Abercrombie's blend of grittiness and humour in his First Law trilogy (though the second book was a little weak). In this stand alone novel, which is set in the same world but features different characters, Abercrombie dials up the darkness. Overall its a compelling tale of vengeance with a focus on the relationships between the central characters. Not as good as the First law trilogy, but certainly worth a look if you like your fantasy grim, bloody and laced with black humour.
Review by Paganmoon
16/06/2015
Ok, to start, the paperback edition I read was 664 pages, but don't be fooled, there's more text in this than any 600 page book I've read so far, so be prepared for a long read (Now I didn't read it at any great speed, but still, the book was much longer than I expected)<br/><br/>Anyway, I loved the first law trilogy, but I'm wondering if the book hadn't been better if there wasn't as much throwback stuff to the main characters of the prior books.<br/><br/>Whenever they are mentioned, I get pulled out, and I get as interested, if not more interested in what has happened to them in the years since Last Argument of Kings, than the characters of this book. Now, for a new reader, this might not be a problem and don't get me wrong, I would love to read more about Jezal and Sand and the others, but too me, it felt like too much like fanservice, and I'd rather have another full book focused on Jezal and the others than having walk on parts in this one.<br/><br/>Another issue I had with the book was that the voice of characters didn't shine through as much as in the first law trilogy, every now and then you'd get a glimpse of it, but more often than not, the chapters read very similar to each other.<br/><br/>Lastly, and this might've been what the author was aiming at, it reminded me of a blockbuster action movie. Too often, there were last second rescues, or things falling just in the right way and so on, and that can work well in a 90 minute movie, but I didn't think it translated all that well in bookform.<br/><br/>But it was an enjoyable read, not much was left hanging in the end, so it gets a good closure as well.