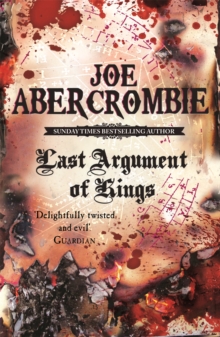 Last Argument Of Kings : The First Law: Book Three
Paperback
Part of the First Law series
Description
The end is coming.Logen Ninefingers might only have one more fight in him - but it's going to be a big one.
Battle rages across the North, the King of the Northmen still stands firm, and there's only one man who can stop him.
His oldest friend, and his oldest enemy. It's past time for the Bloody-Nine to come home.With too many masters and too little time, Superior Glokta is fighting a different kind of war.
A secret struggle in which no-one is safe, and no-one can be trusted.
His days with a sword are far behind him. It's a good thing blackmail, threats and torture still work well enough.Jezal dan Luthar has decided that winning glory is far too painful, and turned his back on soldiering for a simple life with the woman he loves.
But love can be painful too, and glory has a nasty habit of creeping up on a man when he least expects it.While the King of the Union lies on his deathbead, the peasants revolt and the nobles scramble to steal his crown.
No-one believes that the shadow of war is falling across the very heart of the Union.
The First of the Magi has a plan to save the world, as he always does. But there are risks. There is no risk more terrible, after all, than to break the First Law...
Information
Format: Paperback
Pages: 704 pages
Publisher: Orion Publishing Co
Publication Date: 01/03/2009
Category: Fantasy
ISBN: 9780575084162
Free Home Delivery
on all orders
Pick up orders
from local bookshops
Reviews
Showing 1 - 5 of 6 reviews.
Previous | Next
Review by irunsjh
16/06/2015
This was a fitting end to an excellent series. I loved how Joe Abercrombie was able to roll up most if not all of the lose ends, while maintaining a very interesting world. I can not wait to return to Adua to see what other havoc comes of the place. The characters where very well written, and I loved to see where they would go next. A very good series which i would recommend to anyone interested in reading.
Review by stefferoo
16/06/2015
Very rarely do I find a series (especially in a trilogy) where the later books actually outshine the first. Last Argument of Kings was so good, however, it kept me riveted the whole way through. Finally, everything the author had set up in the first two novels pays off in this one, making up for the first book which I saw more as an "intro" where not much really happened.Whereas The Blade Itself was strong in the character development, Last Argument of Kings' forte is the action. Even so, the fast-paced adventure and intrigue does not come at the expense of the characters we've come to know and love (or hate) and it's such a great feeling to be able to enjoy a tale of epic battles and magic and still feel connected to characters that breathe and bleed. And boy, do they bleed! Joe A's books are definitely not for the faint-hearted; there are scenes of torture or war that are so violent and bloody that made even me with my strong stomach cringe.I wasn't sure if I would like the First Law trilogy when I first started these books, but I'm glad now I stuck with it. They just got better and better.
Review by Fledgist
16/06/2015
Conclusion of a fantasy trilogy. War, kingship, murder. But this is no Tolkien clone and nothing is smooth or simple. A king gets the throne, and the beautiful queen, but nothing is quite as it seems. In many ways.
Review by sereq_ieh_dashret
16/06/2015
The internal dialogue of a couple of characters contains more instances of the word "bastard" than I have read in my whole life. Bloody, cynical and disturbing. Some of the "nicest" (as in well-written) torture scenes ever (and I have read most historical novels about Vlat Tepes). Not recommended to the weak and sensitive.
Review by lpetrazickis
16/06/2015
The First Law trilogy (The Blade Itself, Before They are Hanged, Last Argument of Kings) is a very enjoyable one.They are Abercrombie's first published books and to some extent it shows. To me, they read like a reaction to the Lord of the Rings -- what if, instead of being set in a Manichean universe, it were set in an amoral one? What if Gandalf was less Jesus and more Dick Cheney? What if success and failure were unrelated to virtue and vice?His later books are more his own. I started with his fourth, Best Served Cold, which is funnier and more biting and nearly perfect. He does better in later books with the nuance of writing craft, such as having more female viewpoint characters. Though Ardee, Vitari, and Carlot are fascinating in the First Law triology, the story is not told from their perspective and this perhaps makes the story somewhat shallower than it could be.Inquisitor Sand dan Glokta is a divinely sardonic protagonist, and it is a pleasure to inhabit his mind.Some flaws it shares with Lord of the Rings (and, bizzarely, the Song of Ice and Fire). The analogue of the exotic, fallen First Empire is clearly Rome, but historical Rome was by no means the first empire. That honour belongs to Sargon's Akkad and its many non-Roman successors. Omitting analogous other predecessors makes history shallower.I also wish Abercrombie's world were mundane rather than magical -- the first half of Best Served Cold is almost entirely magic-free, which misled me -- but perhaps there is not yet a market for non-magical fantasy.