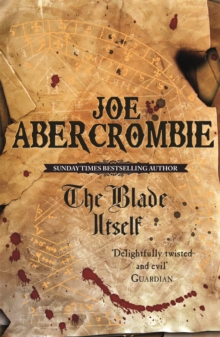 The Blade Itself : The First Law: Book One
Paperback
Part of the First Law series
Description
Inquisitor Glokta, a crippled and increasingly bitter relic of the last war, former fencing champion turned torturer extraordinaire, is trapped in a twisted and broken body - not that he allows it to distract him from his daily routine of torturing smugglers.Nobleman, dashing officer and would-be fencing champion Captain Jezal dan Luthar is living a life of ease by cheating his friends at cards.
Vain, shallow, selfish and self-obsessed, the biggest blot on his horizon is having to get out of bed in the morning to train with obsessive and boring old men. And Logen Ninefingers, an infamous warrior with a bloody past, is about to wake up in a hole in the snow with plans to settle a blood feud with Bethod, the new King of the Northmen, once and for all - ideally by running away from it.
But as he's discovering, old habits die really, really hard indeed......especially when Bayaz gets involved.
A bald old man with a terrible temper and a pathetic assistant, he could be the First of the Magi, he could be a spectacular fraud, but whatever he is, he's about to make the lives of Glotka, Jezal and Logen a whole lot more difficult...
Information
Format: Paperback
Pages: 544 pages
Publisher: Orion Publishing Co
Publication Date: 08/03/2007
Category: Fantasy
ISBN: 9780575079793
Free Home Delivery
on all orders
Pick up orders
from local bookshops
Reviews
Showing 1 - 5 of 20 reviews.
Previous | Next
Review by wyvernfriend
16/06/2015
It's a book that's sometimes hard to read due to the torture scenes but I really did like the cynical and older Logen Ninefingers. A man who has been working at being a mercenary so long that he really doesn't make friends, he just goes through the motions.Jezal dan Luthar wants nothing more than to be a famous fencer but he has to deal with battlefield and it's a place that doesn't really have the same rules.Inquisitor Glokta used to be a great fencer he's now a torturer, having learned lessons about torture from the men who tortured him. He's trying to find out who is plotting against the government, a trail that's very involved and very strange.It's interesting but I felt that sometimes it was trying a bit too hard to be clever. The characters were well drawn and felt realistic.
Review by turpinhero
16/06/2015
Words can hardly express how much I enjoyed this book. Abercrombie has a gift for creating disagreeable characters and making them so very likeable! Glokta, in particular is a wonderfully crafted character and I especially looked forward to the chapters concerning him. It seems to me that Abercrombie has taken the classic archetypes of fantasy, but turned them on their head to make them new and exciting. Almost every character in this book has a depth I've rarely seen in most fantasy novels. The story was fantastic and kept me on the edge of my seat (quite literally at a couple of points)! The negative reviews I've read concerning this debut novel primarily focus on the fact that the ending did not satisfy them, while I can understand where they might be coming from; I do find this to be rather weak criticism. The novel is quite clearly a book which has been split into three parts, rather than being a trilogy of separate books. Would they rather be holding an 1800 word novel in the hands as they read in bed? In conclusion, I haven't stopped thinking about this novel since I finished it last week. I'm immensely looking forward to starting the next part.
Review by fengor
16/06/2015
Welcome to a world of contempt and petty squabbles. In this rather dark fantasy world everyone seems to be fighting for themselves alone. Be it in the cold north were the barbaric northmen wage endless feuds against each other till one rises above all and takes the war south or in the union where the closed council members vie over power while the king becomes more and more senile.It's a a refreshingly realistic and brutal approach to fantasy that shows off many of the darker sides of men and what he is capable of. Machiavelli would probably have loved this.
Review by sonja_de
16/06/2015
I really like the portrayal of (most of) the characters, with the possible exception of Ferro, who's a little too stereotypical, but since I haven't seen that much of her yet, I'll wait for the second book. The plot is very good, the world-building too, but I had to skip quite a lot - graphic torture's not my thing. I don't regret buying the book, but I'm glad my library has them so I won't have to buy the others and still find out what happens next.
Review by woodge
16/06/2015
This was exactly the kind of book I'd hoped it would be. Fun, exciting, violent -- a large roster (but not too large) of interesting characters get involved in intersecting story-lines and it's set in a medieval world with all sorts of people and places plus some powerful sorcery. This is sword-and-sorcery at its best. And the best news is that this is a story in three parts so there's lots more to come. I'll be starting the second volume within days. Wicked fun.