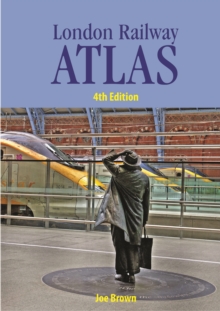 London Railway Atlas
Hardback
Description
First published to critical acclaim in 2006, then in enlarged editions in 2009 and 2012 to include more detail, this new fully revised fourth edition of the London Railway Atlas will be warmly welcomed by all enthusiasts.
This fascinating book gives a detailed mapping of the myriad of lines which traverse the city, including both London Underground and national railway networks.
Each map also illustrates the geographical relationship between the overground and underground network, which will be invaluable for modellers.
All the maps on the large format pages show all tracks and platforms. Through constant research, the author has amassed a vast amount of new information, both present day and historical, on the most complex railway network in the British Isles.
The atlas shows all the lines in London, both open and closed, stations, changes of station name, and station opening and closing dates.
All changes since the previous edition which have affected both the surface and underground networks have been included as well as new historical information.
This edition will contain additional pages with some new large scale map sections. The maps are drawn to a high degree of accuracy and include detail on industrial railways.
All the recent openings on London Overground Rail Operations Ltd (LOROL) are included and Crossrail is shown under construction.
As in the previous edition, opening and closing dates are shown in a DD/MM/YYYY format to provide a near complete chronology of all lines and stations (including goods yards).
The coverage reaches beyond London to include logical places such as Tilbury, Gravesend,Windsor and Redhill to give context, and watercourses and place names are also shown.
The author also shows electrification and gauge maps of all of London (i.e. all of London on a single page showing different electrification and gauges over the years).
Free Home Delivery
on all orders
Pick up orders
from local bookshops