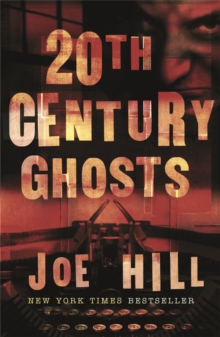 20th Century Ghosts
Paperback
Description
Imogene is young, beautiful, kisses like a movie star and knows everything about every film ever made.
She's also dead, the legendary ghost of the Rosebud Theater.Arthur Roth is a lonely kid with a head full of big ideas and a gift for getting his ass kicked.
It's hard to make friends when you're the only inflatable boy in town.
Francis is unhappy, picked on; he doesn't have a life, a hope, a chance.
Francis was human once, but that's behind him now. John Finney is in trouble. The kidnapper locked him in a basement, a place stained with the blood of half a dozen other murdered children.
With him, in his subterranean cell, is an antique phone, long since disconnected...but it rings at night, anyway, with calls from the dead...Meet these and a dozen more, in 20TH CENTURY GHOSTS, irresistible, addictive fun showcasing a dazzling new talent.
Information
Format: Paperback
Pages: 400 pages
Publisher: Orion Publishing Co
Publication Date: 09/10/2008
Category: Horror & ghost stories
ISBN: 9780575083080
Free Home Delivery
on all orders
Pick up orders
from local bookshops
Reviews
Showing 1 - 1 of 1 reviews.
Review by eleanor_eader
16/06/2015
I'm a little backwards in getting to this collection; I read both of Hill's currently published novels first, and then, convinced of his strong storytelling capabilities, was unable to resist the siren song of <i>20th Century Ghosts</i>. Three things surprised me: that he is a very gifted short story writer, with hardly a dud in the collection, that he writes very sweet ghost stories and very weird fantasy, and that while I've read the comparisons in reviews between the author and [insert name of inevitably mentioned horror writer with off-the-chart short-story telling talent and personal connection to Joe Hill] but hardly any of Neil Gaiman – because it's Gaiman that this collection of Hill's reminds me of, very strongly. Most of the stories have young men or boys as the first-person narrator, which makes sense, (the only exception I can think of is the hidden story in the acknowledgements at the beginning), but otherwise, each one is so varied as to seem to come from an entirely different part of the map of Joe Hill's imagination. The amazingly odd 'Pop Art', whose narrator is best friends with an inflatable boy, a boy's transformation into a giant cricket in 'You Will Hear the Locusts Sing', the clever and frightening Van-Helsing pastiche, 'Abraham's Boys' and an abducted child's otherworldly assistance in 'The Black Phone'. The rise of a super-villain in 'The Cape'. Nothing in this collection prepares you for anything else in it, making the reader itch with curiosity.My favourite in the book, though, is the persuasively disturbing; 'My Father's Mask', which begins as a game told by a mother to entertain her son in the car, and is so subtly seeped in growing surreality as to make it absolutely eerie and unnerving, a real gem of a story. This is the one I can't shake.I would almost rather read another collection of shorts from Joe Hill next than another novel… not that his novels aren't great reading, but some of these tales were powerhouses of storytelling ability, and I closed the book both thrilled and disappointed at how quickly I had charged through them. He's now on my list of authors from whom I would immediately purchase another book of short horror stories. There are only two writers on it. I don't suppose I have to tell you who the other one is.