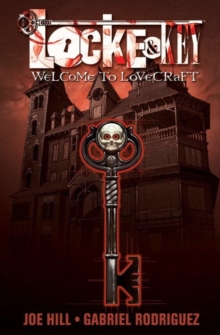 Locke & Key, Vol. 1 Welcome To Lovecraft
Paperback
Description
*Locke & Key tells of Keyhouse, an unlikely New England mansion, with fantastic doors that transform all who dare to walk through them, and home to a hate-filled and relentless creature that will not rest until it forces open the most terrible door of them all! * Acclaimed suspense novelist and New York Times best-selling author Joe Hill (Heart-Shaped Box) creates an all-new story of dark fantasy and wonder, with astounding artwork from Gabriel Rodriguez.
Information
Format: Paperback
Pages: 152 pages
Publisher: Idea & Design Works
Publication Date: 29/03/2009
Category: Comics and Graphic Novels
ISBN: 9781600103841
Free Home Delivery
on all orders
Pick up orders
from local bookshops
Reviews
Showing 1 - 5 of 18 reviews.
Previous | Next
Review by othersam
16/06/2015
When Rendell Locke is murdered, his wife and three children believe they've seen enough tragedy. But the Locke family must face a deeper and stranger darkness. As well as grief and trauma, Rendell's death brings an inheritance: Keyhouse, an old mansion filled with secrets - one of whom is planning something /worse/.Locke and Key is my favourite comics series being published right now. Every character is impeccably realised in a story that is dark and bloody but also smart, funny, touching, thrilling, wildly imaginative and thoroughly wonderful. Do yourself a favour and check it out.
Review by andreablythe
16/06/2015
When their husband/father is murdered by one of his students, the Locke family moves to their uncle's large old house in Lovecraft, Massachusetts to make a new start. The mother is trying to hold it together, the eldest son is racked with guilt, the daughter (who already saved her younger brother once) is trying to disappear into the crowd, while the youngest, Bode, explores the ghostly world of their new home. The house they move to is full of doors and hidden keys, which do all sorts of strange things, as Bode discovers. Each character is emotionally complex, and the art is beautifully dark and eerie, fitting the story perfectly. There's plenty of blood, but there's even more humanity as this family faces down the horrors that await them.
Review by JechtShot
16/06/2015
Welcome to Lovecraft is the first graphic novel in Joe Hill's Locke and Key series. In the first episode, a tragic event forces the Locke family to move in with their uncle to his Gothic home where supernatural mystery abounds. The house holds many secrets waiting to be unlocked, but the right key must be found to unleash the power within. The storyline for this graphic novel is superb and the artwork complemented the story immensely. I have never really given the graphic novel a chance, but Joe Hill's work may have opened my eyes to a whole new genre of storytelling. The next book in the series will be on order shortly.
Vol 1 contains the first six of the single-issue "locke & key" comics. We are introduced to the Locke family in a heartrending manner - with the death of the patriarch of the family. What unfolds from this event is an entire web of interconnected events, all leading back to a set of mysterious keys that prove to be more than they may appear at first sight.
Review by josh314
16/06/2015
This is both a satisfying story in its own right and a gripping introduction to a series. This is a horror story and not for the faint of heart but not particularly gruesome as such things go. The writing is great and the art is just phenomenal. My only quibble is with the pandering mention of Lovecraft in the title. This story has nothing to do with the Lovecraft mythos, at least in this volume. That there is a location in the story called Lovecraft can be chalked up to being an homage but that Lovecraft appears in the title is a marketing gimmick. But aside from that issue, this is just great and I'll be picking up the next volume as soon as I can.