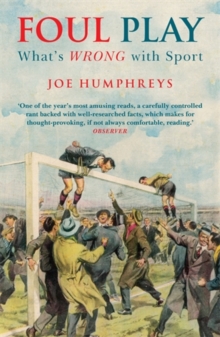 Foul Play : What's Wrong with Sport
Paperback / softback
Description
Common wisdom decrees that sport has an overwhelmingly positive influence on our civilisation.
It's good for your health, builds character, unites nations and generates peace and love and understanding across the globe...Or so we are told by sporting evangelists who spread the word on the back - and now increasingly the front - pages of our newspapers.
But are we being sold a lie? "Foul Play" shows how our belief in the value of sport is misplaced.Tracing the history of organised game-playing, it argues that sport is a last refuge for sexism, racism, homophobia and animal cruelty.
It cites neglected research in psychology, showing how playing sport tends to impinge negatively on your morals. And it asks why sports fans are so judgemental about what is, after all, only a game."Foul Play" is for anyone who believes that their head is not just for keepie-uppies.
Information
Format:Paperback / softback
Pages:208 pages
Publisher:Icon Books Ltd
Publication Date:03/04/2008
Category:
ISBN:9781840468908