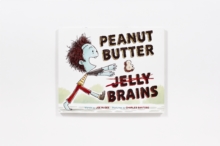 Peanut Butter & Brains : A Zombie Culinary Tale
Hardback
Description
Reginald is not like the other zombies in Quirkville who are constantly groaning and moaning for brains.
The only food that Reginald can think about is a sweet and sticky peanut butter and jelly sandwich.
But as Reginald travels through Quirkville, no one wants to serve a zombie.
It's not until he spots a jelly-stained lunch bag in the hands of Abigail Zink, the smartest girl in Quirkville, that he thinks he might have a chance to satisfy his craving at last.
Unfortunately, the zombie horde has also spotted Abigail, and they're interested in more than her sandwich.
With some quick thinking, Reginald finds a solution that not only saves the townspeople, but finally convinces the zombie horde that there's more to life than just eating brains!
Information
Format: Hardback
Pages: 32 pages
Publisher: Abrams
Publication Date: 01/07/2015
Category: Picture storybooks
ISBN: 9781419712470