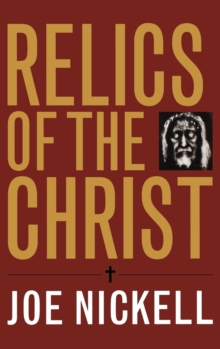 Relics of the Christ
Hardback
Description
The Holy Grail, the Lance of Longinus, and the True Cross are some of the most revered artifacts in the world today.
These Christian relics are also a source of limitless controversy.
They have incited bloodshed and, some say, are a source of miracles.
They inspire fear and hope among the faithful, and yet are a perennial target for skeptics, both Christian and secular.
To research the authenticity of numerous Christian relics, Joe Nickell employs a scientific approach, using such techniques as radiocarbon dating, polarized-light microscopy, and forensic serology.
Examined here are such significant relics as the Shroud of Turin, the multiple heads of John the Baptist, and the "incorruptible" corpses of saints.
For each relic, Nickell examines evidence indicating that the item is legitimate, evidence suggesting that it is not, and whether or not the relic and the miracles attributed to it can be recreated.
In addition to his own experiments, Nickell presents findings from the world's top scientists and historians regarding these controversial objects of reverence and ire.
But he is ultimately guided by the maxim, "extraordinary claims require extraordinary proof." In treating each relic as a mystery to be solved, Nickell seeks only to find the truth.
Information
Format:Hardback
Pages:232 pages, photos, illus, map
Publisher:The University Press of Kentucky
Publication Date:15/03/2007
Category:
ISBN:9780813124254