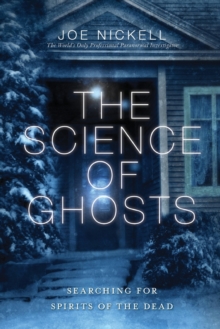 The Science of Ghosts : Searching for Spirits of the Dead
Paperback / softback
Description
Are ghosts real? Are there truly haunted places, only haunted people, or both? And how can we know? Taking neither a credulous nor a dismissive approach, this first-of-its-kind book solves those perplexing mysteries and more--even answering the question of why we care so very much.
Putting aside purely romantic tales, this book examines the actual evidence for ghosts--from eyewitness accounts to mediumistic productions (such as diaphanous forms materializing in dim light), spirit photographs, ghost-detection phenomena, and even CSI-type trace evidence.
Offering numerous exciting case studies, this book engages in serious investigation rather than breathless mystifying.
Pseudoscience, folk legends, and outright hoaxes are challenged and exposed, while the historical, cultural, and scientific aspects of ghost experiences and haunting reports are carefully explored.
The author--the world's only professional paranormal investigator--brings his skills as a stage magician, private detective, folklorist, and forensic science writer to bear on a topic that demands serious study.
Information
Format:Paperback / softback
Pages:416 pages
Publisher:Prometheus Books
Publication Date:15/06/2012
Category:
ISBN:9781616145859