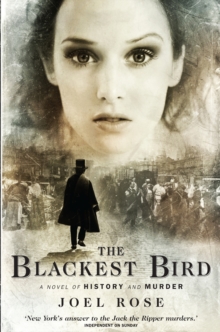 The Blackest Bird : A Novel of History and Murder
Paperback
Description
Sweltering New York City, summer of 1841, the beautiful 'Segar Girl' Mary Rogers is brutally murdered.
Popular amongst the journalistic and publishing elite, the task of finding her killer falls to High Constable Jacob Hays.
At the end of a long and distinguished career Old Hays's investigation will ultimately span a decade, involving gang wars, grave robbing, and clues hidden in the poems of the hopeless romantic and minstrel of the night, Edgar Allan Poe. Superbly researched and compellingly readable, The Blackest Bird is both a richly textured and atmospheric portrait of the birth of New York, a city raging with bloodshed and duplicity, and a thrilling murder mystery.
Information
Format: Paperback
Pages: 480 pages, maps
Publisher: Canongate Books Ltd
Publication Date: 27/03/2008
Category: Historical mysteries
ISBN: 9781847670588
Free Home Delivery
on all orders
Pick up orders
from local bookshops
Reviews
Showing 1 - 4 of 4 reviews.
Review by wulf
16/06/2015
I wonder if The Blackest Bird, "a novel of history and murder", by Joel Rose would be more intriguing for someone well-versed in the time and place of its setting (New York in the 1840s)? As a murder mystery, a genre in which I am better read, it drags along in a desultory manner.The book starts in a gripping fashion, with a scene of murder and then the introduction High Constable Jacob Hays. Unfortunately, "Old Hays" has no forensic anthropology or DNA matching to turn to and relies instead on his trusted methods such as the study of "criminal physiognomy" for his role as detective-protagonist.The story meanders along, opening more bags than it closes, with plenty exposure given to the book's major historical personage, Edgar Allan Poe. Poe is not presented sympathetically and repeatedly finds himself near the heart of the mystery. Another historical figure who features in the plot is Samuel Colt, arms manufacturer, along with numerous other names that the historically well-read will have heard of and may recognise.The book struggles because it puts such famous people near centre stage. The scents and stinks of Old Gotham create a marvellous backdrop but the close involvement of characters based on real people, like Poe, prevent the mystery having the freedom to develop a life of its own. While interesting at the start, the novel felt increasingly drawn-out and unsatisfying.So, quoth the raven, "Nevermore".
Review by Uffer
16/06/2015
The problem with this book is that it's trying too hard to be too many things at once. The murder supposedly at the core of the story gets sidelined for an eternity while we are shown a different (and frankly uninteresting) murder or two, the politics of the publishing of the day, the neuroses of Edgar Allen Poe, and oh, look - there's a touch more very late-breaking 'evidence' in the murder you first thought of - though by the time this turns up I had pretty much forgotten all about the victim, and put the matter down to an inaccurate blurb.This is a book that very badly needs to decide what it's about. It could be a history of early New York, but it needs more detail and a broader scope, or it could be a murder mystery, in which case the supposedly central crime needs to be less like something the author put down and forgot about for several chapters, or it could be a biography of Edgar Allen Poe, in which case it would need to drop the murder entirely and possibly try for a slightly more sympathetic treatment of the subject.In all, this was a fairly unexceptional read - it wasn't a compulsive page-turner, but nor did it make me want to throw the book across the room.
Review by AlexDraven
16/06/2015
Somehow, this didn't quite gel for me. Enjoyable enough, and a good solid read, but not one I see myself coming back too.
Review by tina1969
16/06/2015
New York, the sweltering summer of 1841: Mary Rogers, a beautiful counter girl at a popular Manhattan tobacco shop, is found brutally murdered in the Hudson River. John Colt, scion of the firearm fortune, beats his publisher to death with a hatchet. And young Irish gang leader Tommy Coleman is accused of killing his daughter, his wife, and his wife's former lover. Charged with solving it all is High Constable Jacob Hays, the city's first detective. Capping a long and distinguished career, Hays's investigation will involve gang wars, grave robbers, and clues hidden in poems by that master of dark tales, Edgar Allen Poe.This book sounds as if it had everything going for it, a true life murder and a connection to a famous person. Then I started to read it and gave up after 70 pages. Maybe I haven't given it a fair go but I felt like I was reading a documentary or a newspaper report. The book had no flow and the characters were flat due to very little dialogue. I really didn't fancy a whole book in this fashion, so I have given up and googled about the murder instead.