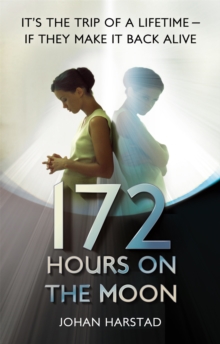 172 Hours on the Moon
Paperback
Description
Three teenagers are going on the trip of a lifetime.
Only one is coming back.It's been more than forty years since NASA sent the first men to the moon, and to grab some much-needed funding and attention, they decide to launch an historic international lottery in which three lucky teenagers can win a week-long trip to moon base DARLAH 2-a place that no one but top government officials even knew existed until now.
The three winners, Antoine, Midori, and Mia, come from all over the world.But just before the scheduled launch, the teenagers each experience strange, inexplicable events.
Little do they know that there was a reason NASA never sent anyone back there until now-a sinister reason.
But the countdown has already begun. . .
Information
Format: Paperback
Pages: 368 pages
Publisher: Little, Brown Book Group
Publication Date: 27/03/2012
Category: General
ISBN: 9781907411519
Free Home Delivery
on all orders
Pick up orders
from local bookshops
Reviews
Showing 1 - 5 of 8 reviews.
Previous | Next
Review by PrettyDeadlyReviews
16/06/2015
Well, that was one of the most horrifying things I've ever been through.<br/><br/>Review to come.
Review by jmbalfe
16/06/2015
Fifty years after the first man walked on the moon, we're going back. What's more, in honour of the occasion three teenagers will be chosen in a lottery to accompany the astronauts and become the thirteenth, fourteenth and fifteenth people to set foot on the moon's surface. Norwegian Mia, the Japanese Midori and Antoine, from France are three of millions of teens worldwide to register for the lottery, and chance or fate steps in – they're going to be a part of man's return to the moon!This incredible mission has the world in a frenzy of excitement, patriotism and optimism about man's future. Everyone is watching to see the teenagers prepare and to see the trip come together. In what feels like no time at all to Mia, Midori and Antoine, they've blasted off and are on the moon, to spend 172 hours making history.Mia isn't as giddy with excitement about the opportunity as the whole world seems to expect. There are too many questions that haven't been answered. Why wait so long to go back? Why send teenagers along; just for the press coverage? What is this base that no-one has ever heard of since it was built in the '70s, DARLAH 2? And, since it's DARLAH 2, what happened to DARLAH 1, and why won't anyone talk about it?This novel started off as a bit of an adventure story; three kids from different backgrounds finding themselves a part of a worldwide historical moment. But when the action moves to the moon, the tone abruptly became menacing, sinister – because those on the mission aren't alone on the moon. The entire second half of the story is more horror than adventure, as it quickly becomes apparent that not everyone will make it safely back to Earth, and less clear what exactly they'll be if they do.I read this book feeling like I was watching a movie rather than reading a book, because like a sci fi movie the novel focused more on the plot than the characters, leaving me disconnected. I also experienced Hunger Games deja vu; once people started dying those watching from Earth felt a lot like the masses tuning into the spectacle of the Capitol's Hunger Games. The world was just waiting to see who would make it home.Creepy, atmospheric, and cinematic, an okay action novel, but not for people holding out for any happy ending.
Review by PrettyDeadly
16/06/2015
Well, that was one of the most horrifying things I've ever been through.<br/><br/>Review to come.
Review by JenneB
16/06/2015
Oh my god what. <br/>I think maybe this was actually written by an alien rather than a Norwegian. At first I just assumed the peculiarly flavorless dialogue was a result of the translation process, but the way that no character at any time behaves the way an actual human would--there's just no other explanation. <br/>Alien wrote this. <br/>The end. <br/><br/>(the end, by the way, I did enjoy since <spoiler>everyone dies</spoiler>. Yay!)
Review by kcarrigan
16/06/2015
Review from ARC from publisher<br/><br/>Predictable, and yet they completely leave out a huge chunk of the ending so it's a surprise later on? Huh? Plus, the translater missed changing a year or age with one of the characters at one point. It's noticable if you do the math.
Also by Johan Harstad