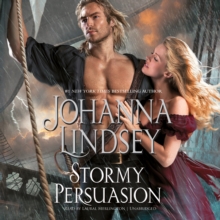 Stormy Persuasion
eAudiobook MP3
Please note: eAudiobooks can only be purchased with a UK issued credit card.
Description
#1 New York Times bestselling author Johanna Lindseyreturns to the dazzlingly passionate world of the Malorys, an aristocraticfamily of rakehell adventurers and spirited ladies, in a thrilling new tale ofunbridled desires.
James Malory sets sail for America to honor a promise hemade to his in-laws: his daughter, Jacqueline, will have hercome-out in America. Judith and Jacqueline Malory are not simply cousins; theyare inseparable best friends. Refusing to miss Jacqueline's come-out inConnecticut, Judith convinces her parents to let her delay her London debut bya few weeks so she can accompany her cousin. Neither girl intends to fall inlove during her first season, but Judith's plans are overturned when aboardship she comes face-to-face with the ghost who has been haunting her dreams.
Unknown to the Malorys, deckhand Nathan Tremayne is asmuggler with a noose around his neck. Determined to carry out a covert missionin America that could gain him a pardon, Nathan senses that beautiful JudithMalory is trouble. Somehow the minx knows his secret-and now she's blackmailinghim into doing her bidding. While passions can soar on the high seas, Nathanknows this aristocratic beauty is merely amusing herself with a scoundrel likehim.
When the unthinkable happens in Connecticut, and the elderMalorys' hands are tied, Nathan takes command of a dire situation. Captaininghis own ship, he turns the tables on Judith as he steers them into some intenseCaribbean heat, where he will fight with all his mettle to win the right to herheart.
Information
Format:eAudiobook MP3
Run-time:10 hours 0 mins
File size:550.26MB
Publisher:Blackstone Publishing
Publication Date:10/06/2014
Category:
ISBN:9781483010489
Other Formats
EPUB from £0.99
Paperback / softback from £7.35