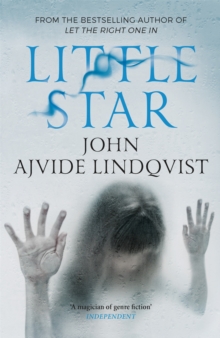 Description
'The new Stephen King. Don't miss it' The Times He found her as a baby, abandoned in the forest.
He saved her life. With her first breath - a perfect, musical note - he realised she was no ordinary child. It was for her own protection that he hid her from the authorities.
Was it his fault, what she turned into? Or was that why she was left for dead in the first place?
The girl who became a little star. Who became, with her extraordinary powers, the most terrifying thing imaginable.
In John Ajvide Lindqvist's fourth masterpiece, he ratchets up the tension until the story reaches its blood-chilling conclusion.
In doing so, he confirms his place as the undisputed new king of horror.
Information
Format: Paperback
Pages: 544 pages
Publisher: Quercus Publishing
Publication Date: 30/08/2012
ISBN: 9780857385123
Free Home Delivery
on all orders
Pick up orders
from local bookshops
Reviews
Showing 1 - 2 of 2 reviews.
Review by Nickidemus
16/06/2015
The Basics

A man finds a baby alone and dying in the woods. He gives the baby mouth-to-mouth, and when she begins to cry, a pitch perfect music note comes out. This man just so happens to be a former pop star settling into his older years, and to him this child is a miracle in the making. This being a horror novel, she'll turn out to be quite the opposite.

My Thoughts

Around this same time last year, I read Lindqvist's most popular work, Let the Right One In, and it's possibly the best vampire novel written since Salem's Lot. Needless to say, I couldn't stop there. I needed more of his work. Little Star caught my attention immediately. I have this strange weakness for horror novels that involve the entertainment industry. A strange child that has a magical talent for singing and becomes some kind of monster via her fame; I knew this was the book for me.

And it didn't disappoint. I'll go ahead and warn those of you who like explanations for your monsters that you won't find one here. I have lots of theories about Theres, but nothing concrete is ever given in the book. Nothing's even truly speculated about. This book exists solely in the present. Theres's past is not explored; none of these characters seem overly interested or worried about the future. There's a sense of focus on the here and now that makes the strange path the two, main characters are on seem even more immediate and speedy, despite the book's length.

This is a hefty book, speaking of. Yet I read it in two days. The cliche applies: I couldn't put it down. Even though the prologue is actually an epilogue, I had to find out how we got there. What led to this. And the further it went, the more fascinated I became to see what would come next. This book is a perfect example of how stories aren't about endings, they're about the journey. The crazed, bizarre journey.

This book is incredibly character driven, and these are not likeable characters. They are engaging, interesting characters whose inner workings may repel you, but you won't be able to look away. Most bothersome of all, if you were the sort of kid who was ostracized or picked on or didn't quite fit in, you might even relate on some level. And when things get really dark, that's when it will really start to get under your skin, making you question how this makes you feel, if you want to be as attached to these characters as you are. It's a disturbing experience that got right inside me and left me feeling unlike any book has made me feel before. In short, it was Let the Right One In turned up to eleven, and only the stout of heart need apply.

Final Rating

5/5
Review by Stahl-Ricco
16/06/2015
A very strong start! The mystery baby, the music, the hiding. Then, Teresa's story, which slowed things down. Then the girls together, which results in actions, and an ending, that seem too far fetched, at least for me. Strange happenings in these pages.
Also by John Ajvide Lindqvist | View all