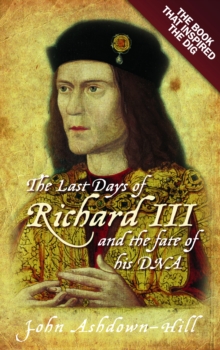 The Last Days of Richard III and the Fate of His DNA : The Book That Inspired the Dig
Paperback
Description
The Last Days of Richard III contains a new and uniquely detailed exploration of Richard's last 150 days.
By deliberately avoiding the hindsight knowledge that he will lose the Battle of Bosworth Field, we discover a new Richard: no passive victim, awaiting defeat and death, but a king actively pursuing his own agenda. It also re-examines the aftermath of Bosworth: the treatment of Richard's body; his burial; and the construction of his tomb. And there is the fascinating story of why, and how, Richard III's family tree was traced until a relative was found, alive and well, in Canada. Now, with the discovery of Richard's skeleton at the Greyfrairs Priory in Leicester, England, John Ashdown-Hill explains how his book inspired the dig and completes Richard III's fascinating story, giving details of how Richard died, and how the DNA link to a living relative of the king allowed the royal body to be identified.
Information
Format: Paperback
Pages: 224 pages, 40 Illustrations, black and white; 16 Plates, black and white
Publisher: The History Press Ltd
Publication Date: 16/01/2013
ISBN: 9780752492056
Free Home Delivery
on all orders
Pick up orders
from local bookshops
Reviews
Showing 1 - 2 of 2 reviews.
Review by jcbrunner
16/06/2015
John Ashdown-Hill has been one of the driving forces behind the recent discoveries of Richard III's bones. He pieced together the direct maternal descendants of Richard III's closest relatives so that the mitochondrial DNA of him and his descendants could be examined for a match, which was indeed the case and laid to rest the few doubts remaining after the scoliosis-stricken body was identified. This lightly updated text includes some of the recent findings.The focus of the text is on the event of Richard III's last year (not so much the last days as the battle of Bosworth is given not many lines and one of the worst sketches in any history books). The year before Bosworth was hard for Richard as he lost both his heir and his wife. This made him politically vulnerable as his supporters had no long-term outlook. He sought to arrange a marriage alliance with Portugal instead of cementing his local support in England with an English match (as did his successor Henry VII).Richard III's chief mistake in his final year was to carry on as normal, fulfilling his strenuous religious duties (personally touching the festering wounds of sick people, washing the feet of the poor, …) and going on hunts. When Henry Tudor landed in Wales, Richard III did not interdict Henry's build-up of his small army and failed to keep the unreliable Stanleys close. It is curious how poor Richard III's decisions were given that he had putsched himself quite adroitly to power. Ashdown-Hill, an outspoken Ricardian, shows Richard as a <i>Schmerzensmann</i>, leading a pious life that led to a brutal end – quite the opposite of Shakespeare's take. Overall, a good, short read that only in one or two places verges into truthiness partisanship.
Review by PhilSyphe
16/06/2015
I read the 2013 revised version of this tome, which is updated to include the discovery of Richard III's body in Leicester in 2012. Info from the first edition led to the car park being dug up and ultimately discovering the last of England's Plantagenet kings situated where the author of this book predicted it to be.The first half of the book does as the title suggests, namely covering the last Yorkist king's final days. Primarily, it's the final 150 days of Richard's life that's discussed, though when earlier info is required the author naturally dipped back further in time to explain.Naturally there's a lot of guesswork but Mr Ashdown-Hill has researched the period well and has come up with probable answers regarding Richard's daily activities during his final five months. This new approach makes a change to the usual history texts and reveals several matters that I was not aware of, including Richard's intention to remarry and the two women he was deciding to make an offer to.An important point stressed by the author is that Richard fully expected to be the victor at Bosworth. Because of this, the king was making plans for the near future and was looking forward to the confrontation with Henry Tudor who he wanted to kill quickly and secure his throne.On the most part I found the details here very interesting, with the occasional instances when interesting drifted into boring, owing to delving to deep into particulars that didn't interest me - but of course this is a matter of taste. I liked John Ashdown-Hill's writing style, which enhanced certain topics that I may otherwise have found dull, but I did skip certain extensive in-depth sections, such clothing worn in the 1480s.The second half of the book deals heavily with DNA testing, which led to proving the discovered body in Leicester was Richard's. Before reading it I expected not to enjoy it too much, as science of this nature isn't something I have any preference for, yet on the most part I was pleasantly engaged with the author's descriptions - I wasn't blinded with science as I feared I may have been.On the whole this book should appeal to anyone who is into Medieval English history, the Wars of the Roses, and of course Richard III.