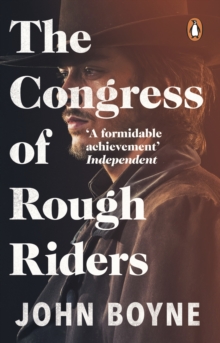 The Congress of Rough Riders
Paperback
Description
William Cody grows up surrounded by his father's tales of Buffalo Bill, to whom he is distantly related, and his fantasies of the Wild West. Though he escapes his heritage by fleeing abroad and starting a new life for himself, he finds that he is always drawn back to England and to his ancestry. When his father proposes that together they should recreate Buffalo Bill's stage show, "The Congress of Rough Riders of the World" for a contemporary audience, William refuses to have any part of it.
When tragedy strikes, however, it is to his father that he must eventually return.
Information
Format: Paperback
Pages: 464 pages
Publisher: Transworld Publishers Ltd
Publication Date: 01/04/2011
ISBN: 9780552776141
Free Home Delivery
on all orders
Pick up orders
from local bookshops
Reviews
Showing 1 - 2 of 2 reviews.
Review by twiglet12
16/06/2015
William Cody is the great-grandson of Buffalo Bill Cody and has been raised by his elderly father Isaac who seems to relate to his child solely through tales of their ancestor. William, who it seems wants a parent not a storyteller, struggles with his relationship towards father and the long shadow of his great-grandfather and eventually leaves their London home for pastures new. In Kyoto he meets and falls in love with Hitomi Naoyuki and starts to make a name for himself as a journalist and writer but Isaac it seems has other plans…I could go on but I wouldn't want to spoil the story and there is so much more to it than just William and Isaac's tale. All the way through their story is interspersed with episodes from the life of Buffalo Bill, and later in the book William's great-grandmother, although these passages did feel a little like they were a bit of a last minute add-on to me. Recently I have avoided books that call themselves "fiction" as I find that I am becoming increasingly weary of the almost uninterrupted misery that seems to be de rigueur at the moment but when a free copy was pressed into my hand by the lovely folks at Transworld I thought I would give it a go. It did after all have a picture of a gun on the front and I am a boy but I have to admit my expectations were not high. First off this is not a western, this is fiction. Despite the presence of the excellent Buffalo Bill stories with their scenes action and descriptions of life on the frontier, which made me want to go out and find a non-fiction book about the period, most of what takes place during the 459 pages is a family drama complete with the usual conflicts, misunderstanding, tragedies and moments of comedy and also, within these pages are discussions of subjects such as truth and fiction, the importance of storytelling, of love, of freedom and family. The characters too are well drawn, even Buffalo Bill has depths I was not expecting and William Cody, while far from being a fully sympathetic character is believable and I found myself agreeing with him on one page and wanting to shout at him for being a hypocritical, self obsessed fool on another.In conclusion then…I was pleasantly surprised. I wouldn't say it was a perfect book, the story of Williams grandmother seemed rushed and added last minute and I did not quite get the point of the whole "die in England" prophecy part (maybe I missed something?), but then all the way through and for various reasons, I was subconsciously comparing this novel with the work of Cormac McCarthy and Haruki Murakami and despite John Boyne's many strengths, that was never going to end well! It was however a good read and will, one day, inspire me to pick up another but probably "Mutiny on the Bounty" rather than "The Boy in the Striped Pyjamas".
Review by Floratina
16/06/2015
READ IN ENGLISH<br/><br/>I'm a big fan of John Boyne, and this was one of the last books I hadn't read yet. So, I didn't mind the fact I really don't like cowboys and just started reading.<br/><br/>Unfortunately, I was a bit disappointed cause it turned out that I minded the cowboys after all. It was not bad, but it just couldn't keep me interested. Personaly, not my best John Boyne book.