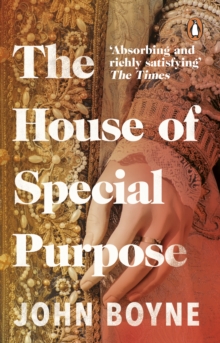 The House of Special Purpose
Paperback
Description
Russia, 1915: Sixteen year old farmer's son Georgy Jachmenev steps in front of an assassin's bullet intended for a senior member of the Russian Imperial Family and is instantly proclaimed a hero.
Rewarded with the position of bodyguard to Alexei Romanov, the only son of Tsar Nicholas II, the course of his life is changed for ever.
Privy to the secrets of Nicholas and Alexandra, the machinations of Rasputin and the events which will lead to the final collapse of the autocracy, Georgy is both a witness and participant in a drama that will echo down the century.
Sixty-five years later, visiting his wife Zoya as she lies in a London hospital, memories of the life they have lived together flood his mind. And with them, the consequences of the brutal fate of the Romanovs which has hung like a shroud over every aspect of their marriage...
Information
Format: Paperback
Pages: 496 pages
Publisher: Transworld Publishers Ltd
Publication Date: 15/04/2010
ISBN: 9780552775410
Other Formats
EPUB from £4.99
eAudiobook MP3 from £19.28
Free Home Delivery
on all orders
Pick up orders
from local bookshops
Reviews
Showing 1 - 4 of 4 reviews.
Review by Tangle99
16/06/2015
There seem to be a plethora of novels dealing with post-revolution Russia, and it is nice to find one exploring the privileged world of the Tsar and his family before 1918. I thought the marriage around which the story centres was beautifully described, especially its recovery after infidelity. The conceit of making a central character a servant in the royal household was well done, and allows an eyewitness account of history. In this way it reminded me (a little) of Footman in Powder by Helen Ashton.
Review by bhowell
16/06/2015
As always, John Boyne produces a novel with a good story meant to be read and enjoyed. An imagined young Russian who was bodyguard to the young Alexei Romanov recounts his story late in life in London as his wife lies dying in the hospital.
Review by MomsterBookworm
16/06/2015
From the author of 'The Boy In The Striped Pyjamas', comes another intriguing story about the last of the Romanovs, eventuating in the relationship of a Leib guardsman and the Grand Duchess Anastasia, and of her fate. The writing easily transported me back to the times of Russian Imperialism. For me, it was a mesmerizing read and I took my time to savor it.
Review by Floratina
16/06/2015
READ IN ENGLISH<br/><br/>Normally I'm not a great novel reader, I usually read suspense books, but I'm a fan of John Boyne's Books! I really loved how he set once again a beautiful story in a beautiful background. You know what will happen to them, but still you find it worth reading and I was almost fearing the end, as if I could have changed anything. Which of course is nonsense, but it describes the way Boyne writes his stories. As if you are a part of it. Loved this story as well. Never knew a lot about the Romanovs, but I almost got the feeling that I do now!