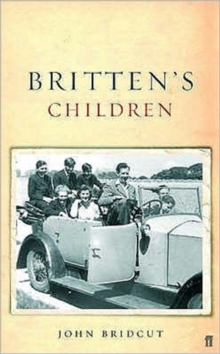 Britten's Children
Hardback
Description
"Britten's Children" confronts the edgy subject of the composer's obsessional, yet strangely innocent relationships with adolescent boys.
One of the hallmarks of Benjamin Britten's music is his use of boys' voices, and John Bridcut uses this to create a fresh prism through which to view the composer's life.
Interweaving discussion of the music he wrote for and about children with interviews with the boys whom Britten befriended, Bridcut explores the influence of these unique friendships - notably with the late David Hemmings - and how they helped Britten maintain links with his own happy childhood.
In a remarkable part of the book, Bridcut tells for the first time the full story of Britten's love affair in the 1930s with the 18-year-old German Wulff Scherchen, son of the conductor Hermann Scherchen.
As Paul Hoggart of "The Times" commented, "this type of love belonged to an emotional landscape that has vanished for ever, and we are the poorer for it".
Since making the film, the author has extended his research to include friendships Britten had with children which have not previously been documented.
Information
Format: Hardback
Pages: 288 pages
Publisher: Faber & Faber
Publication Date: 01/06/2006
ISBN: 9780571228393
Other Formats
Paperback from £7.85
EPUB from £8.00
Free Home Delivery
on all orders
Pick up orders
from local bookshops
Reviews
Showing 1 - 1 of 1 reviews.
Review by edwinbcn
16/06/2015
Benjamin Britten's interest in young men is a part of his life that was downplayed in biographies, such as Humphrey Carpenter's 1992 Benjamin Britten: A Biography. Britten's interest in boys, however, was not only a personal matter, but formed an evasive part of his activities as a composer, with many works written for or to include either many roles for boys or choirs of boy's voices. At the same time, this interest and the relations Britten had with many, many boys throughout his life were the cause of rumours, questioning whether or not these relationships remained pure and platonic. Thus, a specialized biography focussing on this part of Britten's life was called for, and John Bridcut's book Britten's children addresses all these questions admirably.W. H. Auden, Christopher Isherwood and Benjamin Britten were contemporaries. They knew each other well, and Auden and Isherwood, just six and nine years older than Britten, respectively, advised him to stay away from boys and, instead, focus on homosexual relationships. Benjamin Britten did form a life-long gay partnership with Peter Pears, but many parts of Britten's children suggest that for Britten his relationships with young boys, with whom he could at times be madly in love, stood over and above his relationship with Pears. There are several suggestions that his relationship with Pears suffered.Britten's children brings out very clearly that Benjamin Britten was most likely pedophile, and that his interest in children was particularly focussed on boys aged around 13. Not just Isherwood and Auden were worried about Britten's interest in boys. While they acted as concerned mentors, other close associates of Britten, such as librettist and producer Eric Crozier were worried and said in 1966 that feared Britten would "corrupt" boys. However, apart from a single case where Britten crossed the line, when he fondled the thirteen-year-old boy Harry Morris who spent his holiday with Britten in Cornwall, it seems that Britten was sufficiently restrained to admire "his children" but keep their relations entirely platonic. John Bridcut sought out several of the "young friends" of Benjamin Britten and found that none of them felt harmed in any way by their youthful relations with the composer, although some had experienced some agony at the time, as the relations dissolved.Britten's children offers a wealth of material about Britten's relationships with young boys, and particularly his relationship with the young German boy Wulff Scherchen, who was Britten's eye apple in 1938 - 39. The chapters devoted to the development of this relation are particularly interesting, as they most clearly establish the relationship and affinities between Auden, Isherwood and Britten, showing similarities in their outlook on life. This was also the period when Auden met and started his life-long relationship with Chester Kallman, while Britten's relation with "Wullfchen" echoes the adventures of Isherwood and Stephen Spender in Germany, shortly before the war.After the War, back in Europe, Britten's career as a composer really took off, and the biography describes the significance and the role the children played in the creation of his major works. Such descriptions are largely missing from other biographies and descriptions of the works of Britten.Britten's children is of particular interest to readers interested in the composer, but also, emphatically, readers interested in the early history of the gay lifestyle and the circle around W. H. Auden and Christopher Isherwood.