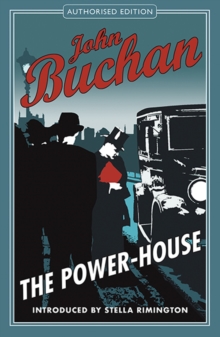 The Power House
Paperback
Description
The first adventure of Scots lawyer and MP Sir Edward Leithen whose daily routine of flat, chambers, flat, club is enlivened by the sudden disappearance of an Oxford contemporary.
As the investigation into the disappearance develops Leithen finds himself pitted against a terrifying international anarchist network called The Power-House.
Information
Format: Paperback
Pages: 128 pages
Publisher: Birlinn General
Publication Date: 01/07/2007
Category: Thriller / suspense
ISBN: 9781846970290
Other Formats
EPUB from £3.20
Paperback from £5.49
Free Home Delivery
on all orders
Pick up orders
from local bookshops
Reviews
Showing 1 - 2 of 2 reviews.
Review by dsc73277
16/06/2015
At a little over 100 pages, it really shouldn't have taken me five days to get through this. For me this was an adventure story that didn't really seem to get going until a chase to a London embassy that occurs towards the end. I've enjoyed The 39 Steps on page, on screen and on the stage, but The Power House was, by comparison, a disappointment.
Review by Eyejaybee
16/06/2015
Not among Buchan's finest work but still a very enjoyable example of his early "shockers". This book is also notable for introducing Edward (later Sir Edward) Leithen, perhaps the closest of Buchan's characters to a self portrait.The story opens in 1913 with Charles Pitt-Heron,one of Leithen's acquaintances, disappearing from London without notice but apparently in great terror for his life. Another mutual acquaintance, Tommy Doloraine, goes off after Pitt-heron intent upon finding him and returning him to London society. Left in London Leithen, who splits his time between a flourishing career at the Bar and the Houses of parliament where he is a newly-returned MP, starts looking into Pitt-Heron's affairs calling upon his wide network of contacts. By dint of coincidence (never very far away throughout Buchan's canon) he comes into contact with Andrew Lumley, a reclusive millionaire philanthropist who has recently had dealings of a covert nature with Pitt-Heron. Over what Leithen describes as "a light dinner" (before going on to describe the four sumptuous courses!) Lumley expounds his belief in the fragility of civilisation, citing what was to be come one of the most-quoted of Buchan's line: "You think that a wall as solid as the earth separates civilisation from barbarism. I tell you the division is a thread, a sheet of glass." That fragility and potential vulnerability of the civilised world became a recurrent theme throughout his later works.Predicatbly, Lumley emerges as the leading figure in a network bent upon wreakling just that collapse of civilisation and a return to virtual barbarism, and only Leithen is able to stand in his way.This might all sound ratehr too whimsical, and certainly there is none of the gritty realism to which we have become accustomed today. however, leithen is a finely-drawn character and a man on great resource, and he sets himself to oppose Lumley and to do what he can to rescue his friend Pitt-Heron.The novel is prophetic in many ways - not least in identifying the future financial power of the then slumbering giant that was China - and is written with Buchan's customary beautiful prose.