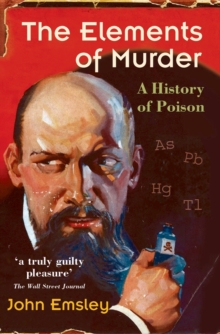 The Elements of Murder : A History of Poison
Paperback
Description
This book is about elements that kill. Mercury, arsenic, antimony, lead, and thallium can be lethal, as many a poisoner knew too well.
Emsley explores the gruesome history of these elements and those who have succumbed to them in a fascinating narrative that weaves together stories of true crime, enduring historical mysteries, tragic accidents, and the science behind it all.
The colourful cast includes ancient alchemists, kings, leaders, a pope, several great musicians, and a motley crew of murderers.
Among the intriguing accounts is that of the 17th century poet Sir Thomas Overbury, who survived four attempts to poison him with mercury but died when given the poison in enema form - under whose direction remains uncertain.
Here, too, is detailed the celebrated case of Florence Maybrick, convicted of poisoning her violent husband James with arsenic, but widely believed at the time to be innocent.
The question of her guilt is still disputed. Threaded through the book alongside the history is the growing understanding of chemistry, and the effects of different chemical substances on the human body. Thousands suffered the ill effects of poisonous vapours from mercury, lead, and arsenic before the dangers were realized.
Hatters went mad because of mercury poisoning, and hundreds of young girls working in factories manufacturing wallpaper in the 19th century were poisoned by the arsenic-based green pigments used for the leaves of the popular floral designs.
Even in the middle of the 20th century, accidental mercury poisoning caused many deaths in Minamata Bay, while leaded petrol poisoned the whole planet, and arsenic still continues to poison millions is Asia.
Through vividly told stories of innocent blunders, industrial accidents, poisoners of various hues - cold, cunning, desperate - and deaths that remain a mystery, Emsley here uncovers the dark side of the Periodic Table.
Information
Format: Paperback
Pages: 432 pages
Publisher: Oxford University Press
Publication Date: 13/07/2006
Category: Forensic science
ISBN: 9780192806000
Free Home Delivery
on all orders
Pick up orders
from local bookshops
Reviews
Showing 1 - 2 of 2 reviews.
Review by craigim
16/06/2015
This was a fun read. Each chapter is a self contained history of a poisonous element, starting with discovery, natural and biological utilization, and industrial uses. The rest of each chapter is than a series of case histories of people who used that particular element as a murder weapon. It includes a long section on serial poisoner Graham Young, whose story was told in the movie Young Poisoner's Handbook.
Review by JKoetsier
16/06/2015
Although the subject is very interesting, and the anecdotes are lovely, the book does not read very well. A lot of facts are presented in a way that is not always very organized. But, overall, a very interesting book!