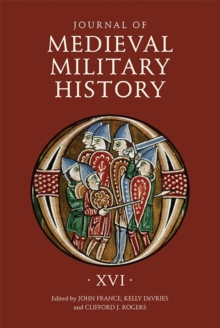 Journal of Medieval Military History - Volume XVI
Hardback
Description
The articles here offer a wide range of approaches to medieval warfare.
They include traditional studies of strategy (on Baybars) and the logistics of Edward II's wars, as well as cultural history (an examination of chivalry in Guy of Warwick) intellectual history (a broad analysis of strategic theory in the Middle Ages), and social history (on knightly training in arms).
The Hundred Years War is studied using cutting-edge methodology (data-driven analysis of skirmishes) and by tackling relatively new areas of inquiry (environmental history).
There is also a close reading of Carolingian documents, which sheds new light on armies and warfare in the time of Charles the Great. Contributors: Ronald W. Braasch III, Pierre Galle, Walter Goffart, Carl I. Hammer, John Hosler, Rabei G. Khamisy, Ilana Krug, Danny Lake-Giguere, Brian Price.
Information
Format: Hardback
Pages: 224 pages
Publisher: Boydell & Brewer Ltd
Publication Date: 18/05/2018
Category: Medieval history
ISBN: 9781783273102